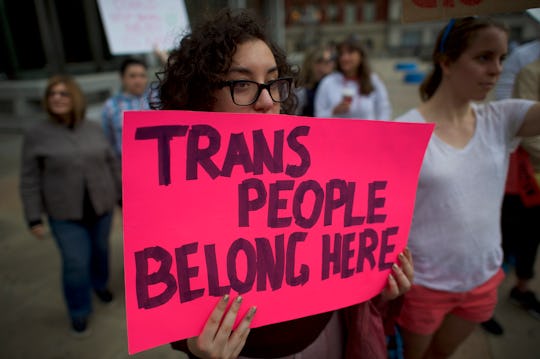 Mark Makela/Getty Images News/Getty Images
The SCOTUS Directive On Trans Rights Isn't Good
The rights of transgender students in America to use the bathroom that matches their gender identity has been a majorly controversial issue, with advocates arguing that schools are unfairly discriminating against trans students, and critics arguing that trans rights put others at risk. In May 2016, former President Barack Obama issued a directive including gender identity as part of the anti-discrimination law Title IX, but on Monday, the Supreme Court of the United States scrapped a transgender bathroom case, deferring to President Donald Trump's recent withdrawal of Obama's directive. What does the Supreme Court transgender bathroom directive mean for trans kids? It mostly means that the debate will continue to be ongoing. But supporters of Obama's stance on Title IX worry that it signals a return to state-based decisions over transgender student rights, which will result in discrimination against them.
According to the Associated Press, the Supreme Court decided Monday not to issue a ruling in an anti-discrimination case involving transgender Virginia high school senior Gavin Grimm. Grimm challenged the Gloucester County school board's 2014 decision to bar transgender students from using the bathroom that matches their gender identities, and Grimm ultimately won a court order in his favor by the Fourth Circuit Court of Appeals, which argued that the Obama administration's guidance on Title IX meant that the school board had "impermissibly discriminated against him," according to The Hill.
The case was expected to be heard by the Supreme Court later this month, but after the Department of Justice and the Education Department rescinded the Obama directive, the Supreme Court chose to throw out the lower ruling that sided with Grimm. The case is now expected to go back to a Virginia court, which will have to reassess Title IX and its implications for transgender students independent of the Obama Administration's guidance. According to the Associated Press, similar cases are pending in other parts of the country, and will likely receive the same ruling.
One major difficulty with administering a ruling in these cases is that Title IX's position in regards to transgender students depends on legal interpretation. The Obama directive argued that the law, which protects students from discrimination in all federally-funded schools, also "encompasses discrimination based on a student's gender identity, including discrimination based on a student's transgender status," according to The Advocate, and that "a school must not treat a transgender student differently from the way it treats other students of the same gender identity." In addition to allowing transgender students from using the appropriate bathroom, the directive also noted that schools had an obligation to use transgender students' preferred names and gender pronouns, regardless of what appears on their official school records.
That was an important step ahead for LGBTQ rights, but the directive was not legally binding, and 12 states responded by filing injunctions against it, according to CNN. Two states have since won national injunctions (which are currently still in place), and now that the Trump administration has signaled it's desire to move away from including transgender rights as part of Title IX protection, it looks as though ensuring that the rights of all transgender students in America will be protected will be increasingly more difficult to achieve.
For now, the Supreme Court's decision specifically means that Grimm's case will remain unresolved, according to the Associated Press, and he will likely continue to be barred from the boys' bathroom until he graduates at the end of the year. For other students in districts blocking bathroom use, the outcome will most likely be the same. But in a statement released Monday, Grimm's attorney, ACLU LGBT Project senior staff attorney Joshua Block, said the fight for transgender students' rights was far from over:
Nothing about today's action changes the meaning of the law. Title IX and the Constitution protect Gavin and other transgender students from discrimination. While we're disappointed that the Supreme Court will not be hearing Gavin's case this term, the overwhelming level of support shown for Gavin and trans students by people across the country throughout this process shows that the American people have already moved in the right direction and that the rights of trans people cannot be ignored. This is a detour, not the end of the road, and we'll continue to fight for Gavin and other transgender people to ensure that they are treated with the dignity and respect they deserve.
Block's message is uplifting, and is an important reminder for anyone who was hoping to see a SCOTUS victory for Grimm. But there's no question that the Trump administration's decision to pass the responsibility to protect all American kids onto state courts when it knows that some will inevitably vote in favor of the school boards is incredibly disappointing. And it's a big step backward for inclusion, unity, and safety — three values that should be priorities in the American school system.