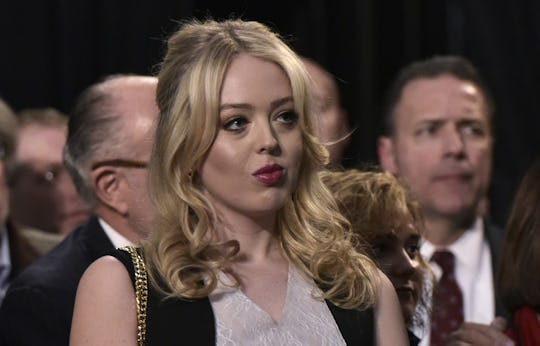 MANDEL NGAN/AFP/Getty Images
What Does Tiffany Trump Do For A Living? She's Prepping For The LSAT
President-elect Donald Trump's youngest daughter, Tiffany Trump, appeared now and again throughout her father's campaign: She gave a speech at the Republican National Convention in July, and she and sister Ivanka stumped for their father in several states. Getting involved in politics is a rather new pursuit for many in the Trump family, and Tiffany acknowledged that in her RNC speech, saying she was "a little new to the convention scene." So what does Tiffany Trump do for a living? When she's not supporting her father, what does she do with her time?
If Tiffany has a job, she's hiding it well — there's no description of a job on her Instagram or Twitter bios, and her family hasn't mentioned her career in any interviews. That said, the 23-year-old just graduated from the University of Pennsylvania in May this year, where she studied sociology and urban studies, according to People. Since then, she stumped for her father intermittently and joined him at certain campaign stops, so a career could be a bit difficult to juggle until things settled down.
In the past few years, though, Tiffany explored different careers. She snagged internships at companies such as Vogue (in a position reportedly arranged by Ivanka) and Warby Parker, where she worked in the glasses company's communications department, according to Cosmopolitan. In 2011, she dabbled in the music scene, releasing a single called "Like a Bird." Even at the time, however, she called singing "more of a hobby" and said her focus was on getting into a good university (she was 17 at the time).
Tiffany doesn't seem focused on a career in music or fashion, though — nor does she seem too keen to follow in her father's business or political footsteps. In late August, Tiffany shared a picture on Instagram of a stack of LSAT prep books, hinting that the second-youngest Trump has plans to attend law school in the next few years.
Lara Maggs, reportedly a friend of Tiffany's from the University of Pennsylvania, told Cosmopolitan that law school was a good fit for Tiffany, saying, "A law degree would bring added value to a really accomplished family."
Tiffany is keeping her options open, however, judging by her words in a recent interview with People. "I'm really interested in fashion and technology and kind of just want to be at a place that's innovative and new, where I can actually implement change and have a voice," she said in July. "We'll see what I find."
With her father leading the country during the next four years, I have a feeling everyone else will be keeping an eye on what Tiffany finds, too.