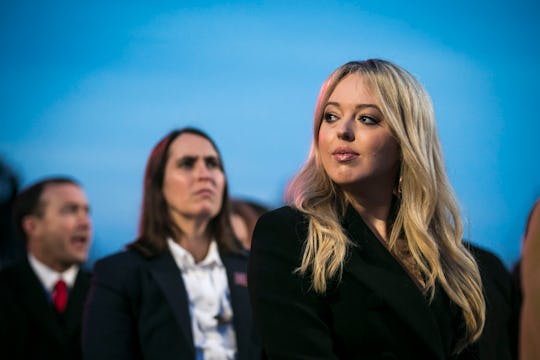 Pool/Getty Images News/Getty Images
Curious What Tiffany Trump Does For A Living? Wonder No More
Tiffany Trump is one of the most mysterious members of the Trump family. She is the only child of President Donald Trump and his second wife, Marla Maples, and hasn't had the same high-profile role in the Trump administration as her older siblings. By all accounts, her mother did the lion's share when it came to raising her daughter, and Tiffany mainly grew up in California, away from Trump Tower and the rest of her family. So it should come as no surprise that people are curious about the "forgotten Trump," and wonder just what Tiffany Trump does in her everyday life.
Tiffany doesn't seem to be a member of the possibly dissolving Trump Foundation, for instance, and doesn't appear to have taken on any significant role in her father's administration. So, who is Tiffany? She may be spending more time with the Trump side of her family these days, but she mostly grew up on the West Coast with her mom. Maples was basically a single mother raising Tiffany, according to People. And that may have shaped Tiffany into a different person than she might have been had she grown up around the glitz and glamour of Donald Trump's lifestyle.
"That was my choice, raising her outside of the spotlight," Maples told People in 2016. "Her daddy is a good provider with education and such, but as far as time, it was just me."
She added in the same interview, "Her father wasn't able to be there with day-to-day skills as a parent. He loves his kids. There's no doubt. But everything was a bit of a negotiation."
That doesn't mean she didn't live a bit of a lavish lifestyle, however. Tiffany's high school education cost over $31,000 a year, according to SheKnows. Tiffany also traveled on her father's private jet, which isn't something every other 24-year-old woman can claim to have done.
As an adult, when her father became the Republican nominee for president, Tiffany ended up speaking at the Republican National Convention in support of him and his candidacy. But she even admitted that she was nervous, because that sort of appearance was out of the ordinary for her. Although she once released a dance song called "Like A Bird," according to Town & Country, and had general music aspirations, Tiffany didn't seem to have a ton of experience "performing" before a crowd before her RNC speech. She said, according to video of her appearance:
Please excuse me if I'm a little nervous. When I graduated college a few months ago, I never expected to be here tonight, addressing the nation. I've given a few speeches in front of classrooms of students, but never in an arena, with more than 10 million people watching.
It's not a huge surprise that Tiffany isn't as public a figure as her siblings, Donald Trump Jr., Ivanka, Eric, and even Barron, who faces the sometimes difficult road of being raised in the public eye by a current president. After all, Tiffany only recently graduated from the University of Pennsylvania, according to Vanity Fair. She's now attending Georgetown University, and may be more preoccupied with her studies at the moment, and therefore not as available for appearances as a public figure the way her older siblings can be.
But one place people can keep track of what Tiffany is up to is her Instagram. She's one of "The Rich Kids of Instagram," according to Town & Country, where friends like Peter and Harry Brant (children of Peter Brant and supermodel Stephanie Seymour), Kyra Kennedy (the daughter of Robert F. Kennedy Jr.), and EJ Johnson (son of Magic Johnson) have made appearances as members of her "squad." She has hundreds of thousands of followers, and being a social media star in addition to her status as a student seems to be her main gig these days.
Tiffany has also modeled at least once, but it doesn't appear that she pursued that seriously as a career. Her main focus right now seems to be on getting through law school, but she does make the occasional appearance as a member of the First Family as well. In fact, she was present at her father's first State of the Union address on Tuesday night.
It will be interesting to see what Tiffany does in the future. Will she follow in the footsteps of her older siblings, and work in various capacities for her father? Or will she blaze her own trail? It may be too soon to tell, but for now, her status as an Instagram socialite and law school student probably keep her plenty busy.
Check out Romper's new video series, Romper's Doula Diaries:
Watch full episodes of Romper's Doula Diaries on Facebook Watch.