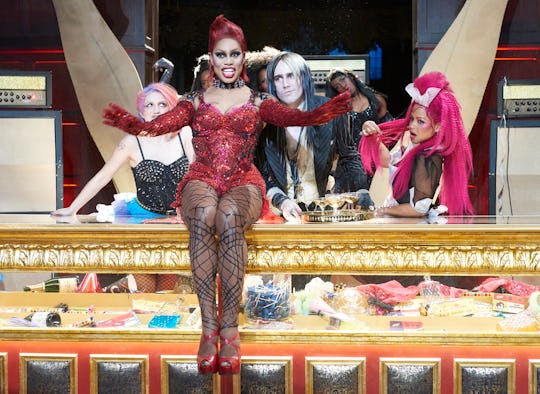 FOX
What Does Tim Curry Think Of Laverne Cox In FOX's 'Rocky Horror'? He Still Makes A Cameo
Tim Curry, who originated the role of Dr. Frank-N-Furter in the 1975 movie version of The Rocky Horror Picture Show, is making a comeback in the FOX reboot, scheduled to air on Thursday, October 20. He won't be reprising his role, however, not only because he's 40 years older than the character now, but also because he's recovering from a stroke. In step with its commitment to diversifying traditionally white casts for classic musical franchises, FOX has cast Laverne Cox in the role of Fr. Frank-N-Furter. So what does Tim Curry think of Laverne Cox in Rocky Horror?
He was actually really impressed with her right from the start. In a recent TCA press tour, the reboot's director, Kenny Ortega, revealed that it was love at first listen, saying:
"I'll never forget the first day of rehearsal. Laverne was standing at the piano getting ready to sing 'Sweet Transvestite' for the first time. And Tim [was] sitting next to the pianist. And when she finished [singing], the first voice that came up was, 'Brava,' from Tim Curry. And that is what we have felt throughout this whole experience working with Tim Curry."
And while Curry isn't helming the show anymore, he will still play a role in the special — this time as the Criminologist/Narrator, instead of the lead. In fact, him joining the cast played a huge part in bringing skeptical die-hard fans on board for a televised musical tribute. Executive producer Lou Adler revealed that the project had been in the works for ten years and that it wasn't until Cox's screen test that they realized the moment was right for a contemporary reimagining of the cult classic.
"As you can imagine, when we announced to fans that we were doing this, there was a tremendous backlash from fans who have been with us for 40 years," he confessed. "That loosened up, and it became more interesting to them, when Tim signed on. His validation gave them something to look forward to."
Curry himself admitted of the production that he "enjoyed it a lot" and that playing a different role than the first time around "was a lot of fun." The original version was the first movie he had ever acted in and his blessing for the reboot was a hugely important gesture for fans struggling to embrace the idea of a new version.
"We are doing this movie again for the 21st century," Gail Berman explained in a featurette for FOX. "So it's not a remake. It's reimagined."