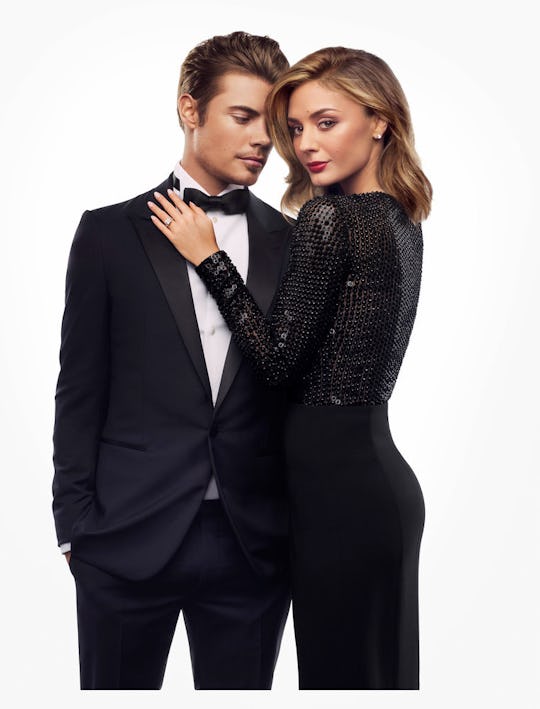 Marco Grob/E! Entertainment
'The Arrangement's Main Star May Seem Familiar
On E!'s new scripted series, The Arrangement, struggling TV actress Megan Morrison (Christine Evangelista) meets movie star Kyle West (Josh Henderson), who offers her a contract marriage. Kyle is part of The Institute of the Higher Mind and many people are comparing The Institute to Scientology and Kyle and Megan to Tom Cruise and Katie Holmes. So what does Tom Cruise think about The Arrangement? (Romper has reached out to Cruise's reps for comment and has yet to hear back.)
Despite the comparisons, The Arrangement cast is adamant about the fact that their show is not the story of Cruise and Holmes' marriage. "You can see the comparisons considering Tom's an actor, Kyle West is an actor," Henderson told E! News regarding the comparison. "They're both huge film stars... you know it's set in Hollywood, it's set in the entertainment industry, but at the end of the day we're really telling our own unique story."
Henderson's co-star, Evangelista, went on to echo his sentiments, stating:
I think it's very natural for people to draw some sort of relation, to compare it to something... I think people just do that generally," she said. "And I think that's okay, but very soon early on you'll see that these people have their own history, their own relationship, and we're not deriving it from any actual people.
Despite the denials, it's easy to see why many assume the show is based on Cruise and Holmes. Just like Megan, Holmes was best known for her work on TV (the popular TV show Dawson's Creek to be exact) before she became involved with Cruise. The couple began dating in April 2005 and were married in November 2006 in a Scientology ceremony, according to USA Today. Also, just as Kyle's close friend is Terrence Anderson (Michael Vartan), the head of The Institute, Cruise's best friend and best man at his wedding was the head of the Church of Scientology, David Miscaviage, according to BBC News.
Most importantly, there was a lot of speculation that Cruise and Holmes' marriage was arranged by the Church of Scientology, just as Kyle's proposal to Megan really came from Terence. Vulture provides an excellent inquisition into the whole "TomKat" relationship from dating to engagement to marriage to divorce, and it does seem a little suspicious and helps add further fuel to the Kyle and Megan parallel. For instance, Cruise's relationship with Holmes reportedly began when he reached out to Holmes' manager seemingly to get her a role in Mission: Impossible III, just like how Kyle meets Megan during her audition for his film.
Honestly, the evidence here is pretty staggering, however, you can decide for yourself if The Arrangement really is based on Cruise and Holmes when the series premieres on Sunday, March 5 at 10 p.m. ET on E!.