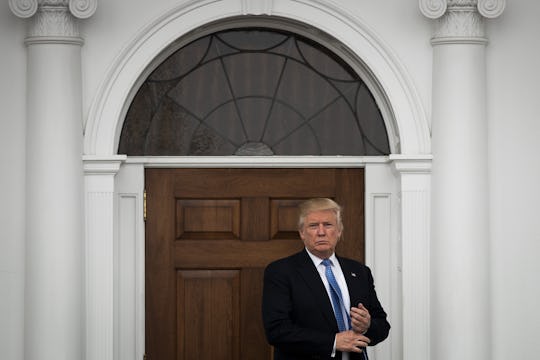 Drew Angerer/Getty Images News/Getty Images
What Does Trump Foundation's Self-Dealing Violation Mean? Funds Were Transferred Illegally
In the Donald J. Trump Foundation's latest report to the Internal Revenue Service, which was posted online on nonprofit-tracking site GuideStar Monday evening, the president-elect's charitable foundation admitted to violating a "self-dealing" prohibition. For those of us less familiar with nonprofit tax regulations, what does the Trump Foundation's self-dealing violation mean, and what will it mean for President-elect Trump?
If the Trump Foundation violated a legal prohibition against self-dealing, that means the nonprofit transferred foundation funds to foundation leaders, leaders' businesses, or their family members. In other words, charitable money from the Trump Foundation could have made its way to president-elect (and the foundation's president) Donald Trump, one of his family members, or any business owned by Trump. Unfortunately, the foundation didn't further clarify the violation in the tax form, so exactly which "disqualified person" the foundation transferred funds to is unclear.
A GuideStar spokesperson told The Washington Post that the IRS form was uploaded by the foundation's law firm, Morgan, Lewis and Bockius, although there's been no confirmation yet that the same tax forms were sent to the IRS. The Trump Foundation has not commented publicly on the tax filings, and a representative for Trump did not immediately respond to Romper's request for comment.
If the form is indeed accurate, then this isn't the first time the Trump Foundation has violated the self-dealing prohibition. When the forms asked whether the foundation had transferred "any income or assets to a disqualified person" in prior years as well, the foundation answered "yes," according to Reuters.
When it comes down to it, though, violating the self-dealing prohibition likely won't affect Trump — or his foundation — too badly. According to The Wall Street Journal, insiders either pay penalties to the government or repay the foundation along with a certain amount of interest. For a hotel mogul like Trump, the financial repercussions shouldn't hit too hard.
The IRS filing does, however, give the public a little more insight into Trump's tax dealings, even if they are not directly his — and that's something Americans have been asking for for months now. During his campaign, Trump refused to release his tax returns to the public, making him the first candidate from a major party to do so in over 40 years. He has yet to make them public.
Nonprofits, however, do need to make their tax returns public, which has at least allowed Americans to glean insights into how Trump's foundation conducts its business. Considering that this is not the first scandal the Trump Foundation has been embroiled in, the pressure might be on for Trump to release his returns and prove that his personal taxes have been by-the-book legal — or at least more by-the-book than his charitable tax returns have been.