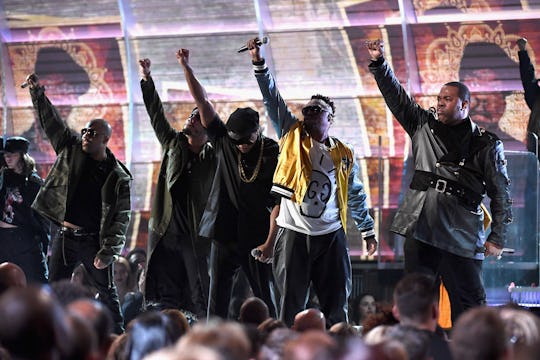 Kevork Djansezian/Getty Images Entertainment/Getty Images
ATCQ Had A Serious Message For President Trump
Sunday night's Grammys were nothing if not controversial. From shocking ensembles to a slip-up by singer Adele, during her tribute to George Michael (for which she later earned a well-deserved standing round of applause), the evening drew plenty of chatter on social media, even from high profile figures who, one might assume, wouldn't normally have tuned in. (Looking at you, Piers Morgan.) Still — one person in particular was strangely silent, despite the fact that nearly every performance or guest that night had managed to make some sort of statement about him. Even after A Tribe Called Quest (ATCQ) issued its own blistering takedown, the current president remained uncharacteristically silent. So what did Donald Trump think of ATCQ's Grammys performance, which was peppered with references to immigration, and unsurprisingly critical of his tenure so far?
No one can be entirely sure, of course, but it's likely a safe bet he wasn't too pleased — if he knew who the iconic hip-hop group even was. (Put money on that, if you so desire.) As noted by The Hollywood Reporter, the performance itself was chock full of blatant anti-Trump statements: At one point the group, along with Busta Rhymes and Anderson .Paak, openly thanked Trump, whom they referred to as "President Agent Orange" for "perpetuating all the evil that you've been perpetuating throughout the United States."
"I wanna thank President Agent Orange for your unsuccessful attempt at the Muslim ban," Busta Rhymes said. "Now we come together!"
At the end of the performance, producer and ATCQ member Q-Tip chanted repeatedly, "Resist! Resist! Resist! Resist!"
Trump's non-response was curious, if only because earlier in the day, he had felt the need to lambast a far less aggressive rival. "I know Mark Cuban well," Trump tweeted on Sunday, referring to the fellow billionaire. "He backed me big-time but I wasn't interested in taking all of his calls. He's not smart enough to run for president!"
A few days earlier, in a now-deleted tweet that was retweeted by the official @POTUS account, Trump also blasted a department store that had dropped his daughter Ivanka's clothing line, for what he perceived as a slight to both her and the family. "My daughter Ivanka has been treated so unfairly by Nordstrom!" he wrote. "She is a great person -- always pushing me to do the right thing! Terrible!" (For its part, Nordstrom maintained the decision to drop Ivanka's line was based solely on falling sales numbers, which, given the recent boycotts of her line by women displeased with Trump's stances on women, seems about right.)
For now, though, it seems Trump has stayed away from clapping back at ATCQ, Busta Rhymes, and Anderson .Paak. For whatever reason, he's keeping his lips sealed. (This time.)