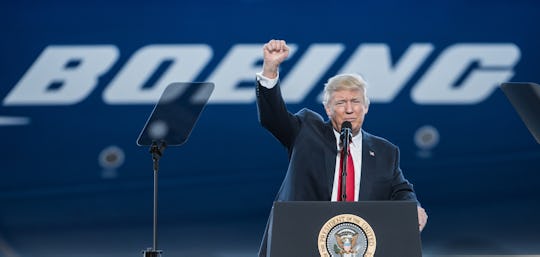 Sean Rayford/Getty Images News/Getty Images
What Does Trump's Boeing Meeting Mean?
On Friday, President Trump took a trip down to South Carolina to meet with Boeing executives and speak at the company's unveiling of its new Boeing 787 Dreamliner aircraft. Considering that a launch event isn't exactly the most typical place to find a newly-inaugurated president, many Americans were wondering: exactly what does Trump's Boeing meeting mean? As it turns out, Trump was at the Boeing factory in order to praise the company's commitment to American manufacturing.
"We're here today to celebrate American engineering and American manufacturing," he said from the stage on Friday, according to The Washington Post. "We're also here today to celebrate jobs. Jobs! ... Jobs is one of the primary reasons I'm standing here as president, and I will never ever disappoint you. Believe me."
According to Fortune, Trump also met with Boeing CEO Dennis Muilenburg on Friday and toured the facility while he was there. But the visit likely wasn't just a courtesy call: it also served as a reminder to supporters of Trump's campaign promises to keep jobs in the United States and support American manufacturing after a controversial first few weeks in office.
Just this week, Trump's former national security advisor, Michael Flynn, stepped down after details emerged about his communications with Russia, and Trump's pick to replace Flynn turned down the job on Thursday. Trump's press conference that same day was then called everything from "dramatic" to "unhinged" by members of the media. Some have speculated that Trump's visit to Boeing could be a way to escape a rather unforgiving week in Washington and revisit his campaign promises.
"We're going to fight for every last American job," Trump told the crowd at Boeing on Friday, according to The New York Times. Looking at the new Boeing 787 Dreamliner behind him, Trump added: "What can look so beautiful at 30? An airplane."
Trump's speech at Boeing was only the first stop in the president's weekend away from Washington. Trump is set to head to Florida next, where he will stay at his Mar-a-Lago resort and hold a rally in Melbourne, the first of its kind since Trump's inauguration. The president's tweet about the event hints that he will talk to supporters about jobs once again while at the Orlando Melbourne International Airport rally.
White House Press Secretary Sean Spicer told reporters that the rally was being run by Trump's campaign, despite the fact that any campaigns for Trump's re-election would only realistically begin in another three years. Larry M. Noble, the general counsel for the nonpartisan Campaign Legal Center, told The New York Times:
My guess is that he intends to control who is invited to the rally and press access by calling the rally a candidate event and paying for it out of campaign funds. If it was an official White House event, he would have less control over it.
It's been less than a month since Trump was inaugurated, making both his appearance at Boeing and his upcoming campaign rally a little unusual. However, judging by Trump's affinity for crowds, this is likely not the last rally — or the last company event — that the president will attend in the next while.