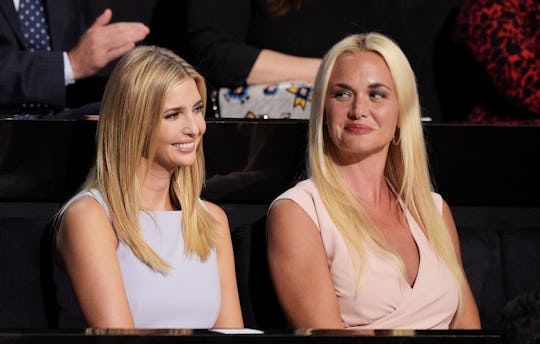 Jeff Swensen/Getty Images News/Getty Images
What Does Vanessa Trump Do For A Living? She's Married To Trump Jr & Is A Stay-At-Home Mom
It's been a week since President-elect Donald Trump won the presidency, and it's been a eventful week, to say the least. Trump has made appointments for positions in the White House, and many people across the country have continued to protest his win. Trump's family has been notably visible throughout his campaign, and many have wondered about their roles, particularly his children's, in his transition efforts and in the White House. In a sit-down interview with the Trump family, the president-elect's oldest son, Donald Trump Jr., joined his siblings, Ivanka, Eric, and Tiffany, in saying that they plan to run their father's company as he serves as president. Donald Trump Jr. is married to Vanessa Trump, and the couple has five children. So, what does Vanessa Trump do for a living?
According to the People, Donald Trump Jr. and Vanessa got married in 2005, at the president-elect's Mar-a-Lago estate in Palm Beach, Florida. Vanessa, formally Vanessa Haydon, is a former model previously signed to Wilhelmina Models, according to the New York Daily News. Vanessa is also described as a "designer and philanthropist" on the biography page of Eric Trump's, Eric Trump Foundation.
A clip of the biography shares more information about Vanessa's past:
Vanessa Haydon Trump is a designer and philanthropist wife of Donald Trump Jr. She is also a former actress and Wilhelmina model. An alumna of the Dwight School, Vanessa studied psychology at New York's Marymount Manhattan College. Vanessa is an avid humanitarian. She and her husband, Don Jr., both volunteered on an Operation Smile medical mission in Nicaragua in 2008, where they worked side-by-side with the medical volunteers to help the young patients and comfort their families and bring global awareness of children who suffer from cleft lips and cleft palates. As the mother of five young children, Vanessa is committed to helping Operation Smile transform the lives of children in developing countries who live in the most impoverished communities...
According to a Twitter page seemingly belonging to Vanessa, Vanessa is now a stay-at-home mom to the couple's five children. The Twitter bio reads: "I'm a Mother of 5 healthy and amazing kids. My children are my life! I'm proud to be an at home mom and I cherish every moment with them!"
It remains to be seen how involved, or what the influence will be, from the Trump family after Donald Trump is sworn to office. In a Twitter post on Wednesday, he shut down news reports that said he is trying to get "top level security clearance" for his children. One thing's for sure, Donald Trump appears to still be actively using Twitter to address issues or concerns.