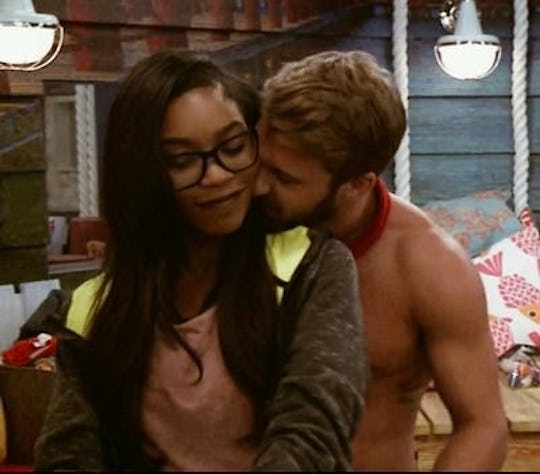 CBS
What Does Zakiyah's Family Think About Paulie On 'Big Brother'? They're A Fan Favorite
If you've been watching Big Brother 18, you may have noticed there's a lot of showmances this season. Nicole has gotten really close with Corey, Natalie and James are now attached at the hip, and Zakiyah and Paulie are cuddle buddies. Although we haven't seen much of "Zaulie" onscreen, if you've been watching the live feeds you know these two have been close since the very beginning. From flirting, to deep talks, to late night cuddle sessions, most fans are loving Zakiyah and Paulie together, but what does Zakiyah's family think of Paulie on Big Brother?
It's a bit difficult to see how Zakiyah's family really feels about Paulie and Zakiyah's role in the house at all because they're very private. Although we know Zakiyah has a sister, she seems to stay away from social media. Similarly, Zakiyah's mom, Lisa Yvette, keeps her Twitter account private. However, there was one moment when we did get to see Lisa weigh in on the "Zaulie" relationship.
It doesn't appear that Zakiyah's mom is absolutely loving Paulie and Zakiyah's showmance, noting she should "snap out of it" in this alleged tweet a fan snapped a screenshot of.
Although this isn't much to go off, it seems like Zakiyah's mom is rooting more for Zakiyah's success as a Big Brother player than anything else. You can't blame her. Zakiyah has a lot of potential in this game. To get distracted now would be a shame. It's time a powerful woman won the game, and Zakiyah could totally be that houseguest.
This past week, Zakiyah and Paulie's showmance seems to be going through a rough patch. With the house still recovering from the blow up after last week's eviction, everyone is wondering where they stand in the house, including Zakiyah and Paulie. It looks like they want to trust each other, but with the other houseguests also weighing in on their relationship, they'll have to decide if they really have each other's backs or if they should continue this game solo.