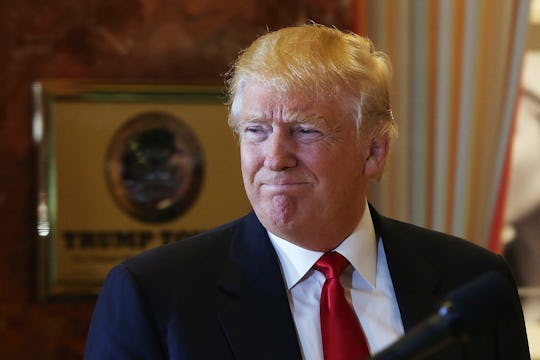 Spencer Platt/Getty Images News/Getty Images
What Donald Trump's 3,500 Lawsuits Really Say About Him
Donald Trump has battled 3,500 legal actions, fighting about everything from vodka to fashion models and golf courses, according to a USA Today investigation released on Wednesday. Trump says these lawsuits are common for someone of his stature. But what do these lawsuits actually say about Trump as a candidate?
"The sheer volume of lawsuits is unprecedented for a presidential nominee," USA Today's Nick Penzenstadler and Susan Page wrote in this week's revealing column. "No candidate of a major party has had anything approaching the number of Trump's courtroom entanglements. Just since he announced his candidacy a year ago, at least 70 new cases have been filed, about evenly divided between lawsuits filed by him and his companies and those filed against them."
The analysis also concluded,
The legal actions provide clues to the leadership style the billionaire businessman would bring to bear as commander in chief. He sometimes responds to even small disputes with overwhelming legal force. He doesn't hesitate to deploy his wealth and legal firepower against adversaries with limited resources, such as homeowners. He sometimes refuses to pay real estate brokers, lawyers and other vendors. As he campaigns, Trump often touts his skills as a negotiator. The analysis shows that lawsuits are one of his primary negotiating tools.
So what does that all mean for the average U.S. voter? Here's what all those legal tangles really mean, and the volumes they speak about Trump in general:
He's Unlike Any Other Candidate In History
Trump has been an unconventional nominee from the start. But no candidate for president in history has ever been involved in this many lawsuits. Since he announced his candidacy last June, 70 more suits have been filed. That's a ridiculous number, even if you compare him with his counterparts. In fact, Trump had more lawsuits involving his name than five top real-estate business executives combined, the report stated.
The Suits Could Complicate Matters If He Wins The White House
A handful of the lawsuits involve state and local governments from New York to Florida, which would be awkward if he gets elected, causing political gridlock and tension.
He's A Vicious Fighter
Trump responds to small cases will extreme force, even in cases involving people who are much less powerful than him.
That example can also be seen in the way that Trump has responded to complaints from former employees of his own Trump University, the now-defunct for profit education company that is currently being sued by students for failing to deliver on its promises. In a speech to supporters this week, Trump blasted his critics, who've cited faulty and egregious business practices by, unsurprisingly, lobbing assaults their way publicly. He then took to calling out the judge who had allowed the Trump University sales tactic manuals to go public. "He's Mexican, we believe... which is great," Trump told the crowd.
He Negotiates His Way Out Of Bad Behavior
Trump uses lawsuits to distance himself and his brand from failing businesses and bad investment decisions, according to the report.
Democratic front-runner Hillary Clinton was quick to comment on Trump's lawsuits. "Trump University was a fraudulent scheme," Clinton shot back at Trump on Tuesday, following Trump's complaints about his critics. "Trump University was a vehicle for Donald Trump to exploit vulnerable Americans for his own gain. ... His only concern is his own profit."
He May Not Be The Best Team Player
The lawsuits suggest that Trump often makes snap judgments and works alone —not great qualities when you have access to the nuclear codes or need to shepherd a controversial bill through congress.
"He's operating as his own boss and a CEO-on-steroids mentality, where you snap a finger and things get done," presidential historian Douglas Brinkley told USA Today. "But a lot of good governance is on learning how to build proper coalitions and how to have patience with the glacial pace of government, and you're forced to abide by laws at all times. "
Whatever Trump claims, one thing is clear: Every single one of those 3,500 lawsuits speaks volumes to his character — for better or worse.