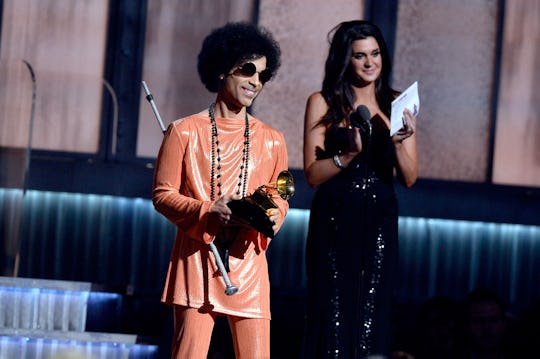 Kevork Djansezian/Getty Images Entertainment/Getty Images
What Drug Was Prince Allegedly Addicted To? He Reportedly Addressed A Painkiller Addiction
As the world continues to mourn the loss of music legend Prince, investigators continue to explore his cause of death and whether an addiction to prescription painkillers was a factor. New reports revealed on Wednesday suggest that Prince was seeking medical help for a reported addiction to painkillers. There is no confirmed reports on what drug Prince was allegedly addicted to, but the reports suggest he sought out help the day before he died.
The Associated Press reported that Prince arranged to meet with a California doctor, Dr. Howard Kornfeld, on April 20, the day before he died. Dr. Kornfeld's attorney, William Mauzy, told Minneapolis newspaper Star Tribune that Prince was dealing with a "grave medical emergency" when he contacted Dr. Kornfeld.
Prince reached out to Dr. Kornfeld, who owns an outpatient clinic in Mill Valley, California, Recovery Without Walls, on April 20, but the doctor was unable to clear his schedule, Star Tribune reported. He reportedly sent his son, Andrew Kornfeld, who works as a practice consultant, according to his biography page on the clinic's website.
"The plan was to quickly evaluate his health and devise a treatment plan," Mauzy said on behalf of the Kornfelds in an interview with Star Tribune."… The doctor was planning on a lifesaving mission."
Mauzy said that Andrew Kornfeld arrived at Paisely Park at 9:30 a.m., after taking a flight from San Francisco the night before, and that he was one of the people who found Prince's body unresponsive in an elevator at his estate. According to Mauzy, Andrew Kornfeld is the person who called 911.
On the Recovery Without Walls website, its practice is described as "specializing in innovative, evidence-based medical treatment for chronic pain and drug and alcohol addiction." Dr. Kornfeld's biography page lists him as being "a nationally recognized leader in the utilization of the opioid pain medication, buprenorphine (also known as Suboxone or Subutex)."
Reports surrounding Prince's death and possible connections to drug use have continued to make their way into the conversation. The AP previously reported that officials said prescription drugs were found at Prince's home on the day he died, and, according to a previous report by "multiple sources" to TMZ, Prince was treated for an overdose six days prior to his death. But as the AP reported, authorities have not released Prince's cause of death. An autopsy was done the day after he died on April 22, but, results weren't expected for as many as four weeks, according to the AP.
These reports come as the U.S. continues to address a growing opioid abuse issue. According to the CDC, the rate of deaths from drug overdoses involving opioids, opioid pain relievers, and heroin, has increased by 200 percent since year 2000.
As for Prince, his fans have, will, and should continue to keep his ground-breaking legacy, memory, advocacy, and unrivaled talent alive. Here's to remembering Prince for the incredible creator he was.