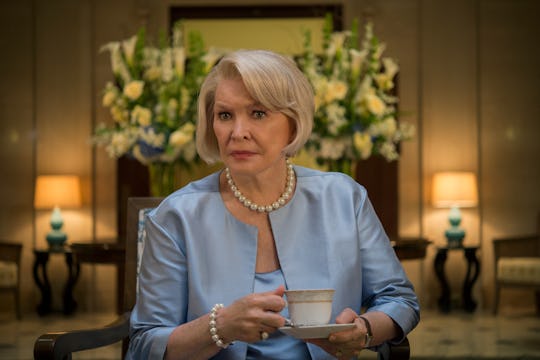 Netflix
What Else Has Ellen Burstyn Been In? Claire Underwood's Mom On 'House Of Cards' Isn't Her First Political Role
Among House of Cards' high-profile Season 4 guest appearances is the arrival of Ellen Burstyn as Claire Underwood's mother, Elizabeth Hale. We find her in her stately Texas home, stealing Robin Wright's usual all-white suit thunder with an elegant older version of the ensemble, but this isn't Burstyn's first political rodeo. Ellen Burstyn has been in tons of other politics shows, so it comes as absolutely no surprise how seamlessly she captures the role of Elizabeth Hale alongside Robin Wright.
At the start of Season 4, we learn that Frank and Claire haven't visited Hale since her husband (Claire's father)'s funeral. Their mother-daughter relationship seems like it's always been rather strained, and Hale flawlessly captures the hypercritical mom role to Claire's stoic daughter act. The combination of Claire so clearly feeling under-nurtured by her mother, and Elizabeth showing love in seemingly harsh, emotionally stunted ways gives the pair a super toxic dynamic that literally has me on the edge of my seat waiting for more.
They manage to avoid each other for the first two days Claire stays at the Texas home with her — in a sneaky sub-plot to steal a Texas Congressional seat and fuel a future run for office — with a lot of feigned napping. We also get to see Elizabeth interact with Frank, and it's very clear that even though her son-in-law is President of the United States, all she sees is "trailer trash." Spoiler: The Season 4 premiere's bombshell is the three-year cancer battle Claire's mom has been hiding from her, which Frank reveals in a less-than compassionate manner. Claire finally breaks down in front of her mom, and Elizabeth manages to comfort her daughter after one last lash-out ("Is that [crying] for me or for yourself?"). She encourages Claire in her own plot for success, telling her she's stronger than Frank is, but that she "just needs to put him in his place."
You might remember Burstyn from her role in The Exorcist, for which she was nominated for an Academy Award, or more recently, from her role on Louie as Evanka, Louie CK's neighbor and the aunt to his non-English-speaking love interest Amia. Now in her 80s, Burstyn has acted in theater, film, and TV since the 1950s, with a staggering six Oscar nominations (one win), seven Emmy nods (two wins), seven Golden Globe nominations (one win), and a Tony to her name. While she's a Grammy shy of an EGOT, she has won the so-called "Triple Crown of Acting" with an Emmy, Oscar, and Tony Award under her belt.
And, this actually isn't Ellen Burstyn's first pass at playing the mother of a powerful First Lady with her own political aspirations. She won an Emmy playing Elaine Barrish (Sigourney Weaver)'s mother in the miniseries Political Animals. She also played Barbara Bush in the George W. Bush biopic W. And, in a political drama of a different nature, Burstyn played Barb Henrickson (Jeanne Tripplehorn)'s mother Nancy Davis Dutton on Big Love. So she's more than qualified to play the shrewd mother to Claire Underwood, one of the most powerful and cunning political wives in drama.
And, after a fierce turn in a cancer-necessitated bald cap in the very first episode of Season 4, we can't wait to see what else Burstyn has to bring to the table.