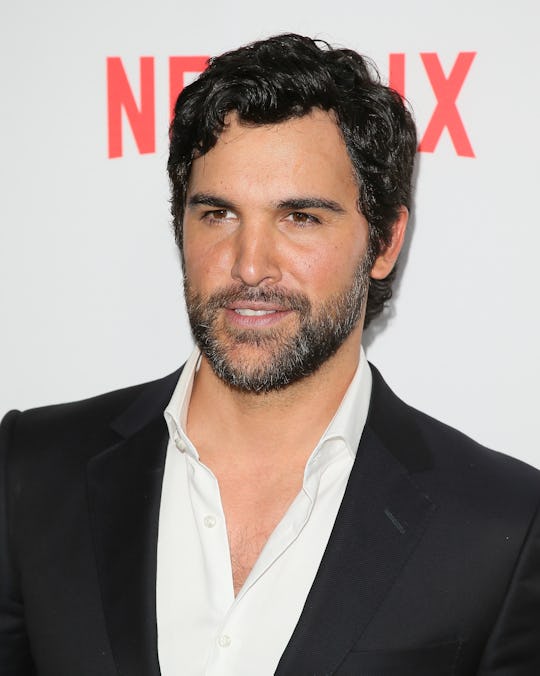 JB Lacroix/WireImage/Getty Images
What Else Has Fernando Been In? Juan Pablo Di Pace Is One Very Busy Man
At long last. Fuller House is (almost) here, and now that everyone has caught a glimpse of the unearthly beautiful actor who plays Fernando, Kimmy Gibler's ex-husband, we all desperately want to know: what else has Fernando been in? Juan Pablo Di Pace, it turns out, has been quite busy.
The 36-year-old Argentinian actor and singer has previously had roles in the TNT drama Dallas and the 2008 Meryl Steep film Mama Mia! Most recently, Di Pace played Jesus in A.D. The Bible Continues, the popular NBC miniseries. Those are his well-known roles on this side of the pond, but Di Pace also graced Spanish television with his flawless face when he lived in Spain for several years between 2009 and 2013. He played regular roles in a number of Spanish TV series that we've never hear of (but now want to watch, because Juan Pablo), including Supercharly and Los Hombres de Paco. The globe-trotting actor was trained in London, where he appeared in the musical Chicago, and also lived in Italy, where he had a leading role in a production of Grease.
But enough about Di Pace, what about Fernando, Kimmy Gibler's ex-husband? You might recall Kimmy Gibler as D.J. Tanner's relentlessly annoying best friend in Full House. In Fuller House, Gibler will play a single mom who is divorced from Fernando, who mysteriously seems to lack a last name.
Gibler and Fernando have a teenaged daughter together, Ramona. According to TV Guide, Fernando is "inappropriately passionate" in his attempts to woe Gibler back. It's difficult to imagine why Gibler keeps turning him down, though apparently his tendency to be too passionate is part of why they divorced in the first place.
Presumably, Fernando is still involved in his daughter Ramona's life, hence his frequent visits to the Fuller House household. Check out this adorable Instagram of Di Pace posing with Soni Bringas, the actress who plays Ramona.
And here, he seems to be photo-bombing the Fuller House ladies.
And this one... well, this one is just too much to handle.
Di Pace seems to be pretty excited about the prospect of becoming something of a mainstay in the Tanner household, despite the fact that Fernando isn't quite family. And who can blame him? That's one incredibly cool bunch.
If you'd like to see more of Di Pace (of course you do!), you only have a few more days to wait until Fuller House premieres on Netflix. And until then, you might need to track down Dallas reruns.