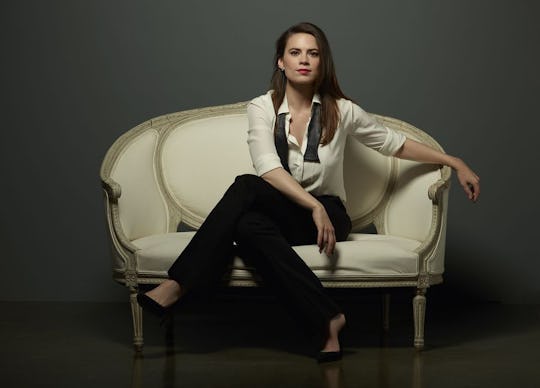 Bob D'Amico/ABC
What Else Has Hayley Atwell Been In Before 'Conviction'? She's Mastered Many Roles
Hayley Atwell returns to ABC in the new drama, Conviction, where she plays Hayes Morrison, a former first daughter who's blackmailed into accepting a new job with the New York District Attorney. Investigating convictions to see if they need to be overturned, Hayes attempts to find redemption after being the black sheep of her family. This is a very different role than the one Atwell previousy played on ABC as Peggy Carter. Though Atwell is probably best known for being Agent Carter she's been in plenty of other shows. So what else has Atwell been in before Conviction?
Atwell first took on the role of Peggy Carter in Captain America: The First Avenger. Since then Atwell has reprised the role in various Marvel productions including Captain America: The Winter Soldier, Agents of S.H.I.E.L.D., Avengers: Age of Ultron, Ant-Man, and finally, Agent Carter. Atwell's spin-off show got two seasons before it was cancelled leaving fans of Peggy devastated. However, before Atwell entered the Marvel world she'd done a lot of other work, mainly on television, and it's no surprise that she bounced right back after the end of Agent Carter.
Before making her way over to the States Atwell did a lot of work in British television. She appeared in the BBC mini-series, The Line of Beauty, back in 2005, and appeared in the TV movies, Fear of Fanny, Mansfield Park, The Ruby in the Smoke, and The Shadow in the North. Atwell also appeared in multiple films including How About You..., Brideshead Revisited, and The Duchess. After that Atwell had recurring rules in multiple TV series and mini-series including The Prisoner, The Pillars of the Earth, Any Human Heart, Falcón, and Life of Crime. She also appeared in an episode of Black Mirror, a Twilight Zone-esque sci-fi anthology.
If you don't recognize Atwell from any of those works, which just seems impossible, you may recognize her as Cinderella's mom in the live production of the Disney animated classic that came out last year. Though she was only in it briefly you definitely couldn't miss her.
Although we sometimes only see Atwell as Peggy Carter the truth is she's played a large variety of different roles and she's exceptional in each and every one; playing Hayes Morrison won't be any different.
Make sure to tune in to ABC on Oct. 3 at 10 p.m. EST to watch the series premiere of Conviction.