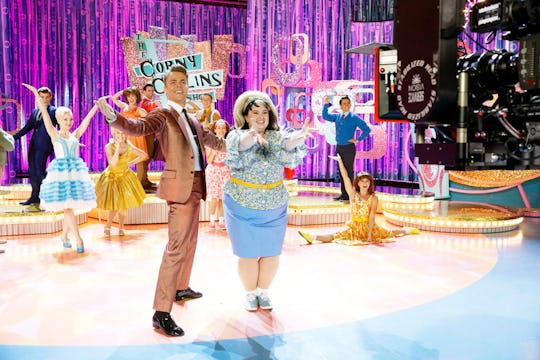 Trae Patton/NBC
What Else Has Maddie Baillio Been In? 'Hairspray Live!'s Tracy Won The Role
If you're a fan of Hairspray, then you know that the role of Tracy Turnblad is a BFD. The character in the show not only gets to explore the ~world of dance~ on live television, but she (most importantly) gets to live her dream. That is kind of the same thing for Maddie Baillio, the young woman who literally won the role of Tracy in an open casting call when the show was casting. Naturally, you may wonder what else Maddie Baillio has been in before taking on the Corny Collins Show on Hairspray Live!, but for the college sophomore, she doesn't come with a huge resume. In fact, she's almost entirely new to the industry.
According to Just Jared, Baillio was a college sophomore at Marymount Manhattan College before snagging the role that a 1,000 hopefuls were going for. The young talent saw the call for the casting on an ad from Facebook and the rest was history. Seriously, now she's about to star in a show that millions will tune-in to, where Ariana Grande plays her best friend, a role that has spanned decades, and let's be honest, she's going to be launched into stardom. She tells Just Jared that while everyone is happy for at school but, "I don't think that I am going to go back to school."
According to her bio on NBC, the future star has been in quite a few school productions, but there is no doubt that Hairspray Live! is the opportunity of a lifetime. It is pretty incredible to think that someone without the connections or experience as half of those she's starring beside will get the same opportunity as some of Hollywood's biggest names. It would have been easy to cast someone who knows the role, knows the industry, and knows how to bring names. Instead, NBC has given a young star her chance to shine. If anything, that's worth tuning in.
As we can see, Baillio is very excited about the opportunity. Above you can see her standing with two former Tracys, Marissa J. Winokur (from the stage production), and Ricki Lake. Tune in on Dec. 7 to watch a star be born.