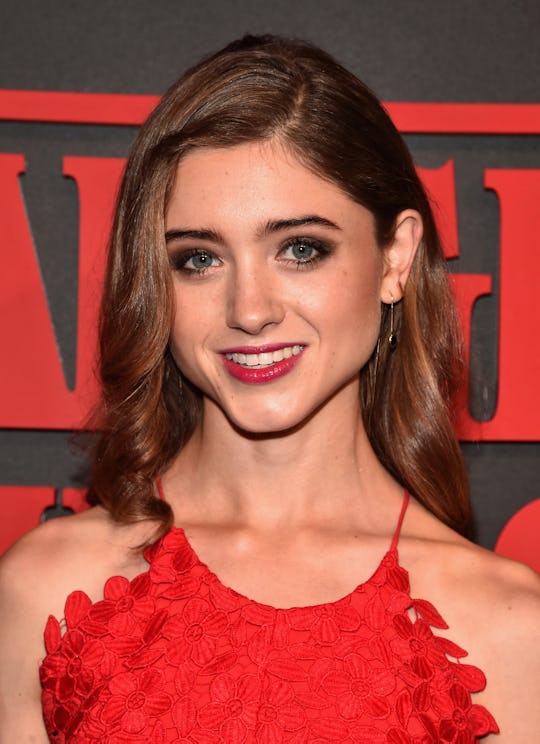 Alberto E. Rodriguez/Getty Images Entertainment/Getty Images
What Else Has Natalia Dyer Of 'Stranger Things' Been In? Her Career Is Just Beginning
The Stranger Things Season 1 plot largely circles around the disappearance of little Will Byers, who vanished basically in thin air after a night of Dungeons and Dragons with his friends. But, the story is much more than that. It involves first love, growing up, and being heard. One of the more capturing actors in the show — although everyone gives an exceptional performance — is Natalia Dyer, Nancy Wheeler on Stranger Things. The young actor, while semi-new to the scene (a Netflix show is definitely a resume builder), is only going to gain more traction in her career from here — but for now, you may be wondering what else Natalia Dyer has been in before Stranger Things.
The performance by Dyer is really incredible. Nancy Wheeler starts out as an uninterested older sister, but evolves into a much deeper character. For example, the premiere episode shows Nancy as a high school student worried about impressing Steve Harrington, the popular guy in school. By the end of the season, her character grows and branches out on her own adventure, surrounding her brother's friend's disappearance and beyond. Basically, she's truly the standout character on the show, alongside Millie Bobby Brown, who plays Eleven, and Winona Ryder, who plays Joyce Byers, the mother of the missing boy.
But, this isn't the first project Dyer has been in.
Hannah Montana: The Movie
According to IMDB, Dyer played Clarissa Granger in Hannah Montana: The Movie. It was her first role credited on the site, which is a pretty impressive first gig.
The Greening of Whitney Brown
Dyer played Lily in The Greening of Whitney Brown, which came out in 2011. The movie is about a privileged young teen (Whitney), who finds herself in a bit of a bind when her family hits economic hard times.
Blue Like Jazz
Dyer played Grace in the 2012 film based off the New York Times Best Seller.
I Believe in Unicorns
Dyer played Davina in this indie film about an imaginative girl who "often escapes into a beautifully twisted fantasy life." When she meets an older boy, she is brought into a very romantic-turned-volatile relationship. It's a must see from the young actress.