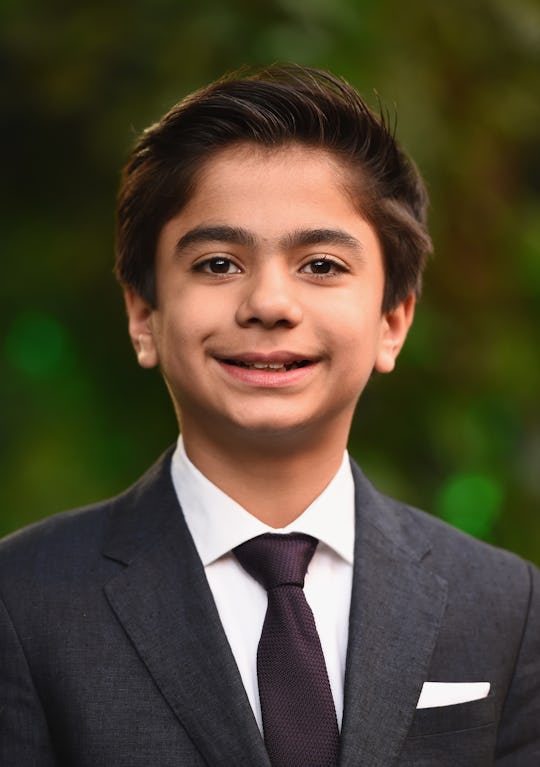 Ian Gavan/Getty Images Entertainment/Getty Images
What Else Has Neel Sethi Been In? Playing Mowgli In 'The Jungle Book' Was His Big Break
Disney's updated, live-action version of The Jungle Book opened in North America Friday to rave critical reviews and impressive box office numbers, so it's probably safe to say that the movie is going to continue being a huge hit. The visually impressive movie (which has drawn comparisons to the insanely-successful Avatar) boasts an A-list cast of voice actors, including Bill Murray as Baloo, Ben Kingsley as Begheera the panther, Idris Elba as Shere Khan, Scarlett Johanssen as Kaa the python, and Lupita Nyong'o as Raksha the wolf. But the only actor to actually physically appear on screen in the entire film? Twelve-year-old Neel Sethi, who plays Mowgli, the "man cub" raised by animals after being abandoned in the jungle as a baby. What else has Mowgli been in? There's a good reason you probably don't recognize him: The Jungle Book was newcomer Sethi's first major film ever, according to the Independent.
Before being cast in The Jungle Book, Sethi's only other acting role had been a short film called Diwali. And given that he shot basically the whole film pretty much alone on a blue screen soundstage — something that would be a challenge even for seasoned, adult actors — the fact that he pulled it off is seriously impressive.
Despite the big studio budget and great cast and talented director, there was a lot riding on Seethi's shoulders. After all, The Jungle Book is a story about Mowgli, so he kind of had to do a good job. Unsurprisingly, the casting process was incredibly thorough: according to Variety, Seethi was picked from "thousands of kids who auditioned for the role in the U.S., the UK, New Zealand and Canada." But lucky for Seethi, director Jon Favreau, for one, had huge faith in his abilities. In response to Seethi's casting, Favreau said in a statement, according to Variety:
Casting is the most important element of any film and finding the right kid to play Mowgli was imperative. Neel has tremendous talent and charisma. There is a lot riding on his little shoulders and I'm confident he can handle it.
So what's up next for Sethi now that he's finished with The Jungle Book? Possibly The Jungle Book 2. According The Hollywood Reporter, thanks to the success of the just-released film, Disney is already in talks with Favreau and screenwriter Justin Marks to return for a sequel. And if that happens, Seethi definitely wants to return as Mowgli, according to the Independent. But that's not his only acting goal — he also really wants to be a superhero:
I want to do Jungle Book 2 . I don't know what Disney is thinking... I want to keep playing Mowgli, but I also want to be a new superhero [his voice has becomes even more excited]. One no-one knows about yet. I don't know out of DC and Marvel, I want to be a mix!
Having starred in a major movie, Seethi might have accomplished more by middle school than most of us do... well, ever. And from the sounds of it, he has no intention of slowing down any time soon.