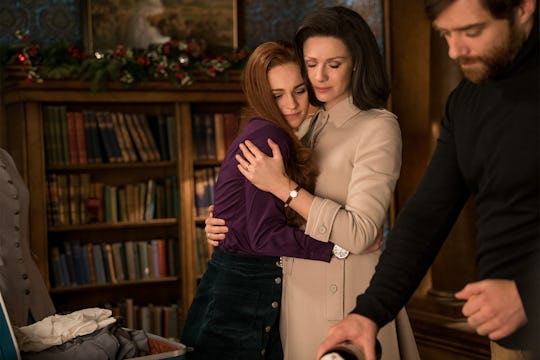 Starz
Claire & Jamie's Reunion On 'Outlander' May Be Sooner Than You Think
Four weeks into the third season of Outlander, you may find yourself wondering a very important question: what episode do Claire and Jamie reunite on Outlander? This is a very understandable thing to ask and something that I definitely relate to. After four episodes, Claire and Jamie are still in different centuries, with Claire positively dragging her feet when it come to getting back to the man she knows she's meant to be with. But not to worry, Droughtlander Part 2 is almost at an end.
At the end of Season 2, it looked a lot like Claire was just going to head right back into the stones then and there following Geilie (er Gillian). Brianna, finally deciding to be a considerate daughter, told Claire that she and Roger had found that Jamie didn't actually die at Culloden. Brianna told her that she finally believed her, and actually urged her mother to go back to Jamie, knowing she would never be truly happy without him. I foolishly believed that this ending to the season meant that Season 3 would start up with Claire immediately throwing herself into the stones to rejoin Jamie and live happily (or more happily) ever after. But the showrunners evidently wanted the viewers to feel the separation as well as Jamie and Claire did. Oh boy, am I feeling it.
In an interview with Entertainment Tonight, co-executive producer and writer, Matthew B. Roberts, teased Claire and Jamie's upcoming reunion. "I think the fans are most excited to see the reunion. It's one of the most anticipated moments in all the books," he stated. "Certainly in the TV series, we've managed to keep the couple apart and then make that reunion really special."
When I was a kid, on Christmas morning my dad used to make my siblings and I wait on the stairs for him to slowly get up and get dressed, drawing out the moment as long as possible while the four of us were literally quivering with excitement and frustration. That is what this moment feels like right now. Roberts continued, "If we got them together too soon, I think it would diminish the reunion because it's 20 years they're apart, and that longing, we have to make them earn it. Earn the coming together. And I promise it'll be really special."
Hmm. Special. Yeah, it had better be. But it looks like the episode the Outlander world has been waiting for is just around the corner. Executive producer and writer Ronald D. Moore revealed (perhaps accidentally) at the Television Critics Association press tour that fans would be waiting at least five episodes before Jamie and Claire got together again. "The book laid out this episodic story of Jamie, it began with five chapters of his life from the Battle of Culloden to Lallybroch, to prison and Hellwater and ends up in the print shop," Moore explained. "So as we approached this season structurally, we laid out the cards on the board and it was clear, that's five episodes right there."
But will the reunion be in Episode 5 or will it be in Episode 6? Episode 4 ended with Claire and Brianna deciding to give up their search for Jamie and fly back to Boston, which seems like a very weird move to me. However, the teaser for Episode 5 shows Brianna urging her mother to go back to him, and then some very interesting shots of Claire in her 18th century finest walking down a cobblestone street. This episode is entitled "Freedom and Whiskey" and seems to include a lot of action and a lot of dithering and weighing of options. So I'm inclined to believe that the reunion in all its glory will happen in Episode 6, which is called "A. Malcolm." If you're a book reader, you know what that means and if you aren't, well, I won't give it away here, but prepare for something very special.
Watch Romper's new video series, Romper's Doula Diaries:
Check out the entire Romper's Doula Diaries series and other videos on Facebook and the Bustle app across Apple TV, Roku, and Amazon Fire TV.