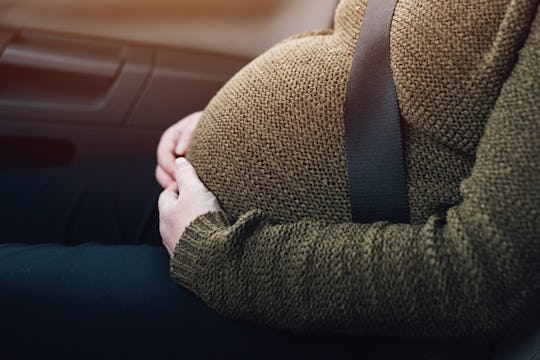 Bits and Splits/Fotolia
What Experts Really Want You To Know About Pregnancy Lightning Crotch
When it comes to pregnancy, there are well known symptoms to expect. Nausea, fatigue, and tender breasts fall into this category of known discomforts. Unfortunately, some pregnancy pains fly under the radar only to emerge in the second or third trimester as an unwelcome surprise. Lighting crotch, which has no scientific name but is nonetheless very real, was definitely an unknown symptom to me. In both of my pregnancies, as my belly grew I experienced more pain while standing and walking. However, what experts want you to know about pregnancy lightning crotch is that it's "completely normal," among other things.
The phrase "lightning crotch" sounds like it could come from a Cosmopolitan article on achieving your best orgasm, but sadly the corresponding sensation is one of pain, not pleasure. "The majority of nerves in the uterus are actually right by the cervix," OB-GYN Idries Abdur-Rahman told SELF, meaning that pressure on your cervix from an expanding uterus triggers these nerves, sending stabs of pain into your vagina. Varicose veins can also contribute to pregnancy lightning crotch.
In a first-person essay for Romper, Steph Montgomery writes that lighting crotch "felt like a sharp pain in my vagina — literally like electricity was shooting out of my cervix — or maybe like my baby was stabbing me with something sharp, or had, perhaps, somehow acquired a taser." Wearing a pregnancy support band helped Montgomery alleviate some of the pain, but it didn't completely disappear until after the birth of her daughter. Here's what you need to know about lightning crotch to cope during your own pregnancy.