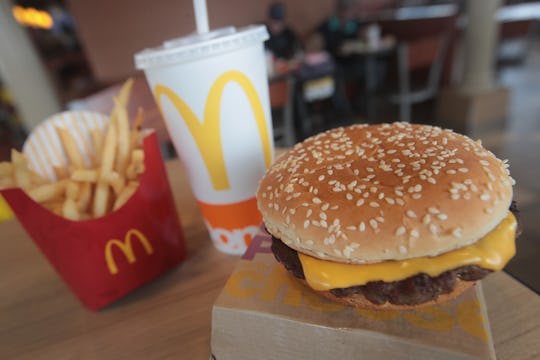 Scott Olson/Getty Images News/Getty Images
Need A Backup Plan? Here Are The Fast Food Restaurants Open On Thanksgiving
When most people think of Thanksgiving, a few food-related items come to mind: turkey, stuffing, cranberries, mashed potatoes, yams, and green beans, to name a few. And, usually, the aforementioned foods are enjoyed around the dinner table after friends and loved ones have cooked for hours on end. But not everything goes according to Thanksgiving dinner plan, my friends. So if you find yourself in need of a back-up, wondering what fast restaurants are open on Thanksgiving as your smoke detector goes off and your turkey burns, have no fear. Rest assured, there are places always open to accommodate individuals searching for a quick substitute.
If you really think about it, you could do worse than enjoying all the great Thanksgiving foods and desserts without the stress, cleanup, uncomfortable conversations with relatives, or time commitment that would come with a traditional Thanksgiving meal. And who says Thanksgiving has to involve a turkey? Why not a hamburger, or a steak, to change things up? After all, you're an adult.
The world is your oyster (and coincidentally, you can even eat oysters at one of the restaurants listed below), so you don't have to be confined to the "rules" of traditional Thanksgiving fare. Instead, you can invite the whole clan to a quick dinner out, or go it alone and be thankful all by yourself. Regardless, thank goodness you won't have to resort to a frozen dinner the one day you're supposed to indulge.