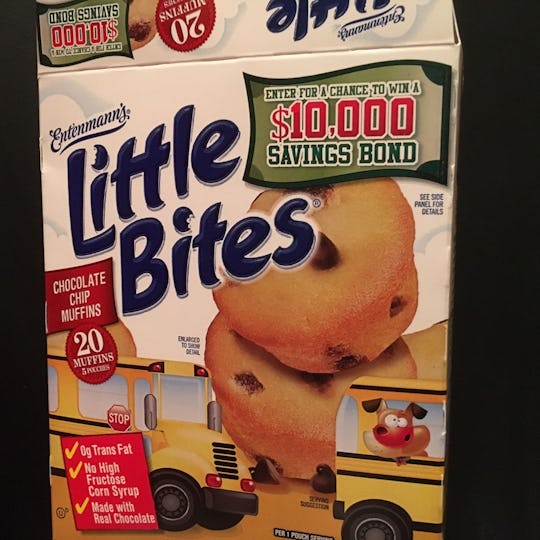 Courtesy of Kim Zapata
What Flavors Of Entenmann's Mini Muffins Were Recalled? It Varies By State
Entenmann's issued a voluntary recall of several Little Bites products. What flavors of Entenmann's mini muffins were recalled? Only four products are involved, ABC News reported, but the recalled items were not all sold in every state.
Bimbo Bakeries USA issued the voluntary Little Bites recall on Thursday, according to a release on the Entenmann's parent company website. It expanded the recall Friday, adding items sold in North Carolina and South Carolina to the list. The four recalled products include Entenmann's Little Bites Fudge Brownies 5 pack (UPC 7203001342); Entenmann's Little Bites Chocolate Chip Muffins 5 pack (UPC 7203001353); Entenmann's Little Bites Chocolate Chip Muffins 10 pack (UPC 7203002111); and Entenmann's Little Bites Variety 20 pack (Fudge Brownies, Chocolate Chip Muffins and Blueberry Muffins) (UPC 7203001799).
The Fudge Brownies and Chocolate Chip Muffins share a best by date: Oct. 8, 2016; the Variety Packs have a best by date of Sept. 24, 2016. The recall notice issued by Bimbo Bakeries USA states which products were sold in which state, but consumers who bought any of the items may want to check the UPC code and best by date of the muffins they've already purchased to ensure they're not a part of the recall.
The Entenmann's Little Bites recall applies to almost 500,000 boxes sold in a reported 30 states, according to CNN Money; Bimbo Bakeries USA is concerned that pieces of plastic may be found in the Little Bites due to a "manufacturing failure at a contract manufacturer's bakery in Illinois." The parent company learned of the potential problem when customers reported finding plastic in the products, but Bimbo Bakeries USA wrote in the recall notice that only one person reported an injury.
A press release on the Entenmann's Little Bites website instructs consumers who purchased a recalled product to "dispose of it" or to "return the product to its place of purchase for a full refund." The company accepts calls from customers around the clock at 1-800-984-0989.
Products are grouped into four categories on the Little Bites website: Snacks, Seasonal, Snackin' Bites, and Big Packs. Entenmann's reported that only the products specified in the recall are at risk of containing plastic, so other Little Bites items are not of concern at the moment. Contact information for Little Bites is available on the brand's website; for consumers who do not wish to use the Consumer Hotline Number, Little Bites can be contacted by phone, fax, and mail.