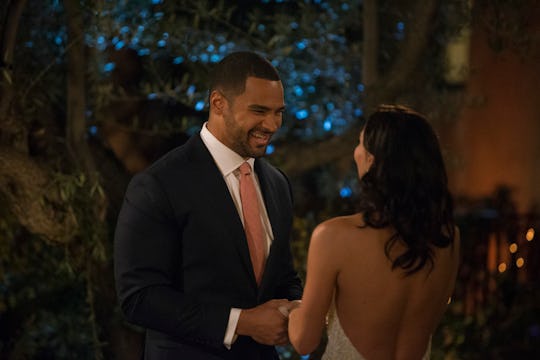 Paul Hebert/ABC
This 'Bachelorette' Contestant Is A Pro Football Player
After the emotional roller coaster Becca Kufrin had to endure on the last season of The Bachelor, her fans are excited to see her comeback to TV as The Bachelorette. She's got a pretty awesome group of hunks to choose from, including NFL player, Clay Harbor. Sports fans have known that he was joining the Season 14 cast for months, but if you aren't in tune with sports (especially football), you may want to know: what football team does Clay play for?
While he is currently a free agent, Clay last played as a tight end for the New Orleans Saints in 2017, but was put on injured reserve in August of that year, as noted by Sports Illustrated. He's had over seven years of experience in the NFL since 2010, when he started as a tight end for the Philadelphia Eagles and then went on to play for the Jacksonville Jaguars, New England Patriots, and the Detroit Lions. He is still on the Saints' injured reserve list, which is probably why he decided to take a crack at love on The Bachelorette. What better way to kill some down time than with romance, right?
It turns out that Becca and Clay actually have a few things in common. Both have roots in the Midwest, with Becca born and raised in Minnesota and Clay hailing from neighboring Illinois. Plus, both of them have suffered through recent heartbreaks. Clay sustained undisclosed injuries last year, noted 247 Sports, which, unfortunately, have put the future of his NFL career on thin ice. Becca had her own future snatched away from her earlier this year, when Bachelor Arie Luyendyk Jr. rescinded his engagement proposal to her.
Luckily, Becca's finally getting the happy ending she deserves this time around. Just recently, in an interview with People, she confirmed that she did find true love on this season of The Bachelorette, and is now happily engaged! She told the magazine that the engagement was "the happiest moment" of her life, and that despite everything being so crazy the last few months, joining this season of The Bachelorette was "so worth it."
Of course, there is no word on who the lucky guy is, and don't expect to find out anytime soon. The Bachelor and Bachelorette cast and crew are notoriously tight-lipped and secretive about everything that goes down on the show, so you'll have to just watch and wait until the final rose ceremony. In the meantime, you can try to decipher all of Becca's dates and interactions on the show to see if you can guess who the mystery man really is.
Clay has been pretty secretive about his time on The Bachelorette, as all contestants are required to be. On his social media accounts, there are no pictures or posts to suggest how things went with Becca one way or the other, but he did post an adorable picture of his two grandmothers on Twitter in March. It's really endearing to see such a big hunky guy doting on his grandmas, so I'm already cheering for him. He is also proud of his heritage and roots, and recently posted a picture of himself with Bachelor alum, Amber James, with the hashtag, #halfricanamerican.
There's no way to know how things went down on The Bachelorette this season, or how well Clay fared throughout the show, so you'll just wait and see. But I think fans are in for a real treat this season, because knowing that a fruitful love story is brewing will make watching this season more exciting. Season 14 of The Bachelorette is set to debut with a two-hour premiere special on Monday, May 28 at 8 p.m. EST on ABC.