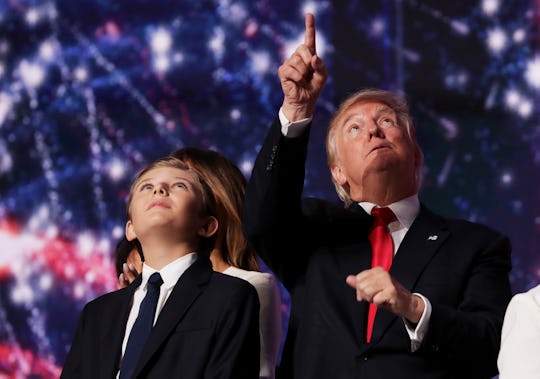 Chip Somodevilla/Getty Images News/Getty Images
What Grade Is Barron Trump In? He Might Have To Switch Schools Mid-Year
When business mogul Donald Trump announced his run for the presidency last year, no one could have ever predicted — with a straight face, at least — that the 70-year-old father of five would actually win the election. Probably most surprised of all was his 10-year-old son, Barron, who will officially become the First "Boy" in the White House since John F. Kennedy's son, John F. Kennedy, Jr. The youngest of the Trump children, Barron is the son of Melania and Donald. With their family's potential impending move from Trump Tower in New York City to the White House, Barron will need to find a new school — so what grade is Barron Trump in?
Barron just turned 10 years old this past March, so he has most likely just started fifth grade this year at his private school, Columbia Grammar and Preparatory School, in Manhattan. But of course, all of this will depend on whether Barron actually gives up his floor of Trump Tower — because of course Barron has an entire floor to himself. It has yet to be confirmed exactly who of the Trump family would take up residence at the White House come Jan. 20 next year.
If Barron does end up getting his own wing of the White House, he could go to public school, if the Trumps so choose. According to the District of Columbia Public Schools website, the White House address — 1600 Pennsylvania Avenue — makes Barron eligible to attend the School Without Walls at Francis-Stevens to finish out the fifth grade. But, it's highly unlikely that Barron will go to public school, as every Trump child has gone to private school.
There are plenty of White House kids who have attended school in Washington, D.C. Most recently these presidential progeny have gone to Sidwell Friends, a private Quaker-run school in the Capitol. Sasha and Malia Obama have both been students at Sidwell Friends, as was Chelsea Clinton. Malia will take a gap year before heading to Harvard University, but after the president's second term ends, the Obama family will stay in Washington, D.C. so Sasha can finish her secondary schooling at Sidwell.
While it's highly unlikely that Barron and Sasha would ever share classes at Sidwell, it would make parent pickup kind of awkward if he did go there. Can you imagine Michelle and Melania talking about the upcoming bake sale while waiting to pick up their kids?
Michelle: "I'm going to make my famous oatmeal raisin cookies."
Melania: "Oh, yes! Me too."