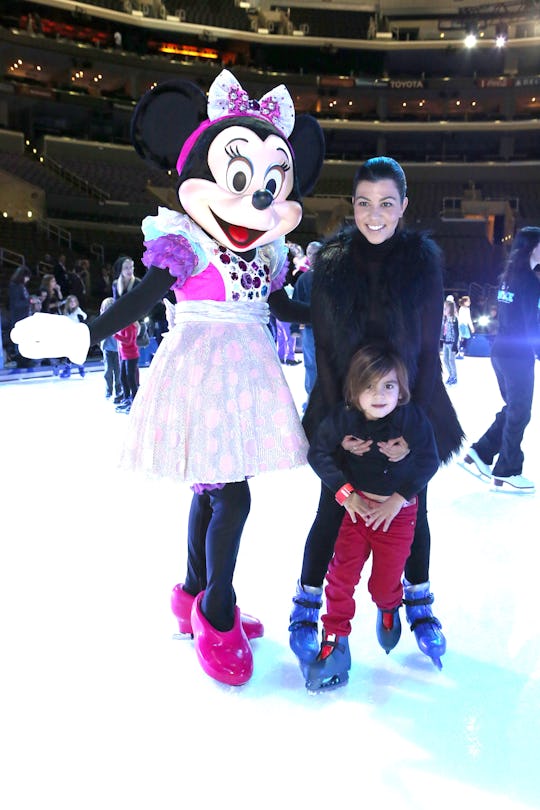 Ari Perilstein/Getty Images Entertainment/Getty Images
Here's What We Know About Mason Disick's Schooling Situation
It seems as if the Kar-Jenners are adding more and more children to their family each year. In 2018 alone, the Keeping Up with the Kardashians stars have birthed three babies: Kim Kardashian and Kanye West welcomed Chicago via surrogate, Kylie Jenner and Travis Scott had baby Stormi, and Khloé Kardashian and Tristan Thompson welcomed baby True. (That's three more grandchildren for the family matriarch, Kris Jenner!) Through all of this baby mania, it's easy to forget about the older Kardashian kids that have been around for a while — like Kourtney Kardashian's three children, Mason, Penelope, and Reign Disick. In fact, fans of the reality TV family might be wondering: What grade is Mason Disick in?
For those who have lost track of where Mason falls in the Kar-Jenner lineup, here's a refresher. Mason, the eldest child of Kourtney Kardashian and Scott Disick, is also the first-born grandchild of Kris Jenner. This sweet little guy was born on Dec. 14, 2009 — all the way back during season four of KUWTK — according to The Sun. (Although they're no longer a couple, Kourtney and Scott also have two other children together: Penelope, 6, and Reign, 3.) Simple math reveals Mason likely would have started kindergarten during the 2015-16 school year, when he was 5. Barring any issues in the classroom (or other unexpected circumstances), that means Mason would be entering third grade this year.
Still, it's hard to tell for sure what grade Mason is in. Because as open as the Kardashians are about their lives — and as intimate and drama-filled as their reality series is — the sisters don't really divulge many details about their kids. (Which is awesome, in my opinion! Let them have their privacy.) With that said, let's take a look at what we do know about Mason's schooling.
In 2015, In Touch Weekly reported that Mason was being homeschooled due to scheduling conflicts with Keeping Up with the Kardashians. "It has to be this way," a source told Radar Online at the time. It seems as if the homeschooling situation was only temporary, though. That's because in a recent episode of KUWTK, Kourtney referenced the fact that her children are in a traditional school setting. While in a heated argument with Kim Kardashian, Kourtney unloaded about the mom guilt she has been carrying around. "All everyone f*cking says is, 'What's your job?' If I had enough money, I wouldn't work. I wouldn't do the show. I would be a full time mom," Kourtney said. "That's what I want to do. The guilt I carry every day from not being at home when they get in from school, not doing homework — my kids suffer."
Recently, Kris Jenner opened up about her special bond with her eldest grandchild, Mason, Us Weekly reported. "It changes all the time," she told Us Weekly on July 29. The Kar-Jennner matriarch added that she has an "amazing connection" with her grandson, Mason. Jenner went on to say that she's "close to all the girls because we do a lot of fun, girly stuff." During a recent family vacation, however, Jenner admitted that she got pretty attached to Reign. "You know it changes every day. The babies are just starting to get animated so that's cute. There's a lot of personalities."
Based on Kourtney's most recent comments about her kids, it definitely seems like Mason is no longer homeschooled — and that he and Penelope are both in a traditional school setting. Although it isn't clear what grade Mason is starting this school year, it's most likely that he's is in third grade — just based on his birthdate alone. However, there is always the possibility that Kourtney and Scott decided to hold him back a year if he was struggling in the classroom. (And heck, if Mason is casually solving Rubik's cubes, they might have even moved him up a year.) Whatever grade Mason happens to be in, I wish him — and his working mama — the best, as yet another school year kicks off. Because judging by the amazing summer they had, it might be tough transitioning back to the routine of classrooms, homework, and bedtimes.