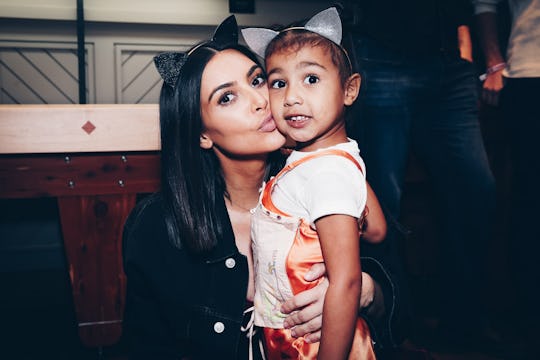 Handout/Getty Images Entertainment/Getty Images
Here's What Year North West Is Probably In At School
Even if you're someone who keeps up with the Kardashians, it can be hard to keep track of all the Kardashian and Jenner grandkids, let alone their ages or whether they're in school yet or not. But North West's grandma Kris Jenner recently joked about embarrassing her granddaughter at school, so what grade is North West in? She's just getting started with school, and has a whole lot of years of education (and possible embarrassment from her grandmother) ahead of her.
In May, at the Los Angeles premiere of the series American Woman, Kris Jenner spoke with Entertainment Tonight's Leanne Aguilera about how she had recently embarrassed granddaughter North West during a school visit. So clearly, the little girl is in some form of school. Jenner told Aguilera that the day before, she "took North to school and they had crazy hair day, so I wore a blonde wig — thinking I'd be the cool grandma, you know."
But apparently North was not amused. "North was rolling her eyes, probably mortified that her grandmother wore a blonde wig," Jenner said. "It was so funny!"
But Jenner didn't say what grade North is in during that interview. However, a recent article from E! News about North's birthday may help solve that mystery.
On June 15, North turned 5, according to an Instagram post made by her mom, Kim Kardashian West, that day. Based on that, unless she was bumped up in school or held back, it would make sense for North to be in either preschool or kindergarten during the most recent school year.
But an E! News article from June says North "hasn't even started kindergarten yet." But she's definitely in school, based on Jenner's comments and what Kim said in a recent interview with Us Weekly.
Kim spoke with Us Weekly in November, and said she sometimes has to "bribe" North to go to school with makeup. She told the outlet she'll ask her daughter, "Do you want to put on some makeup?" And North will agree. Kim continued:
I'll put on fake makeup, and she won't know because she's not looking in the mirror, but she thinks it's all on her face, and we'll be driving to school, and she'll say, 'Mom, do I still have it on?' And I'm like, 'Yes, you sure do.'
In 2017, it sounds like North was in a pre-kindergarten program, according to Radar Online. The outlet reported that her parents spend a lot of money to send North to a private school in Los Angeles. Plus, in June, North was described as being "kindergarten-bound" by AOL.com, so it's safe to say she wasn't yet in kindergarten and was probably still doing preschool in 2017 until at least this summer.
But it does sound like North may be on her way to kindergarten at the start of this school year. If so, that's got to be very exciting for the little girl and her whole family. And that gives Jenner a whole lot of years of mortifying school visits to fit in with her granddaughter.
If North starts kindergarten this fall, she wouldn't be the first Kardashian grandchild to do so. Kourtney Kardashian's first child, Mason, is eight years old, according to Elle. He has presumably long since finished kindergarten and probably additional grades of school. Her daughter, Penelope, is around North's age, and is likely in the same grade her cousin is in school.
The other Kardashian and Jenner grandchildren are toddlers or babies, so they're probably not in any sort of formal schooling just yet. But North is almost definitely going to start kindergarten soon, if she hasn't already. Here's hoping she enjoys every second of it, and doesn't always have to be bribed into showing up.