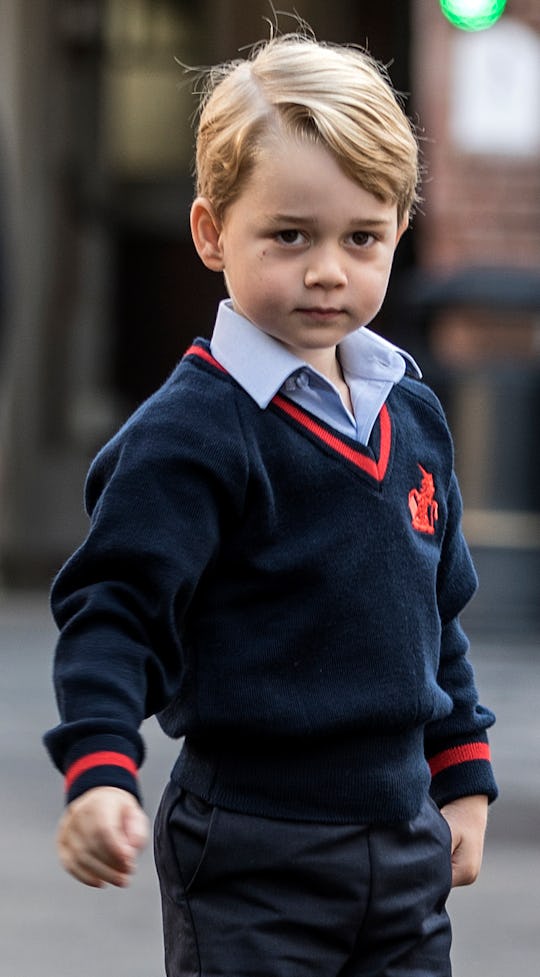 WPA Pool/Getty Images Entertainment/Getty Images
Here's What We Know About Prince George's Schooling So Far
Prince George may be third in line to the throne of the British monarchy, but he is also still a 5-year-old boy. And as such, he attends school, just like a lot of other little kids in the United Kingdom. But what grade is Prince George in, now that he'll be returning to school in the fall? He's still got a lot of schooling to go, but he's well on his way to being a very well-educated little royal.
Just for the record, "grades" don't work the same way in the U.K. as they do in the United States. In the States, school generally starts with pre-K or preschool, or kindergarten if children forego those earlier lessons for whatever reason. After kindergarten, kids move on to 1st grade, and graduate after finishing 12th grade, or their senior year of high school.
In England and Wales, kids often start with what is called their primary education, and it starts with infant school or primary school, beginning with "reception," for kids aged 4 to 5, according to The Learn English Network. Indeed, when Prince George famously started school in Sept. 2017 — accompanied to the institution by his father, Prince William — The Telegraph noted that he was led "into the reception class."
Technically, Prince George hasn't started his next "grade" of school yet. However, when he returns from summer holidays, he will be begin "year one" at his private prep school, The Daily Express reported on Wednesday.
Year one of primary education for children in the U.K. appears to be for kids aged 5 to 6, according to The Learn English Network. Primary education "continues until age 11" across the pond, according to International Student. Then, kids in the U.K. generally go onto secondary education for a few years, and further education or higher education after that.
Prince George seems to be right at the age that most kids in the U.S. would be in kindergarten, just to give a similar comparison. So he's still just starting out with his schooling, and there's no telling what he'll go on to do when it comes to school after he is done with his primary and secondary education.
Prince George attends Thomas's Battersea, a co-ed school that teaches children who are 4 to 7 years old at its "lower school," Vogue reported in Sept. 2017. And apparently, he's already a little bit over it.
Prince William reportedly told another parent, Louise Smith, last September that, "he'd just dropped Prince George off at school and he didn't want to go," according to Hello! magazine. Hopefully he learned to love it, but Prince George wouldn't be the first kid to be excited about school at first, only to become less enamored with it as they realized they have to go almost every day.
And speaking of Prince William, interestingly enough, Prince George's father didn't attend the same school as Prince George is when he was young. Prince William went to Mrs. Mynor's Nursery school in West London, before attending Wetherby School in Kensington, London and Ludgrove School in Wokingham, according to Biography.
In fact, Prince William and Prince Harry both went to Wetherby, an exclusive pre-prep school, and Prince William and Kate Middleton definitely considered the school for Prince George, according to Vanity Fair. But they ultimately decided on Thomas's Battersea instead.
Before they know it, Prince William and Middleton's oldest boy will be flying through the rest of his school years. And fans of the royal family are sure to watch eagerly from afar as Prince George gets through all of his schooling and decides whether he will attend university. It would be especially interesting if he one day decides to attend St. Andrew's University, where his parents met.
But that's a long ways off. Prince George still has his first day of "year one" to get through in a few weeks, and with any luck, he will enjoy a wonderful first day before completing an exciting new school year.