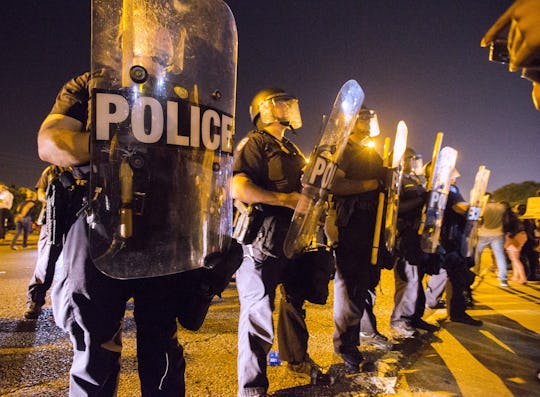 Mark Wallheiser/Getty Images News/Getty Images
What Happened After The Iconic Ieshia Evans Protest Photo? This Frame-By-Frame Is Shocking
Last week, videos of Alton Sterling and Philando Castile being shot by police officers sparked nationwide protests and sustained momentum for the Black Lives Matter movement. Though powerful images emerged from across the country, one photograph taken in Baton Rouge quickly went viral. The photo shows a protestor standing in front of police in riot gear; the juxtaposition is striking, but it's not the only picture of the interaction. What happened after the iconic Ieshia Evans protest photo was taken? A frame-by-frame recap shows what the police did next.
Evans is a Pennsylvania nurse, according to TIME. Her self-identified best friend said that Evans attended the protest with her young son in mind, advocating for "freedom and rights." Right after the now-famous photo of her standing in front of officers was taken, several other images show those officers arresting her. Romper reached out to Evans for a comment but have not yet received a response. She spent one night in custody and left jail on Sunday, TIME reported. Photographer Jonathan Bachman told The Atlantic that, despite the arrest, the interaction between Evans and the Louisiana State Police was peaceful:
It happened quickly, but I could tell that she wasn't going to move, and it seemed like she was making her stand. To me it seemed like: You're going to have to come and get me. And I just thought it seemed like this was a good place to get in position and make an image, just because she was there in her dress and you have two police officers in full riot gear. It wasn't very violent. She didn't say anything. She didn't resist, and the police didn't drag her off.
Though the protest at the time was nonviolent, CNN reported that Baton Rouge Police Department spokesman L'Jean McKneely said that any arrests made that day were justified: "Everyone was given proper instructions and a certain amount of time to clear the roadway. If they did not, then they were arrested."
Evans appeared to respond to the interest following the release of the Baton Rouge protest photo on her Facebook page July 10:
I just need you people to know. I appreciate the well wishes and love, but this is the work of God. I am a vessel! Glory to the most high! I'm glad I'm alive and safe. And that there were no casualties that I have witnessed first hand.
The protest followed the shooting deaths of Alton Sterling and Philando Castile. Baton Rouge police officers appeared to pin Sterling to the ground before he was shot, according to CNN. Detective R. Cook wrote in a search warrant affidavit that the officers thought they saw Sterling reaching for a gun in his pants pocket; many who saw video of the incident argued that Sterling appeared to do nothing to warrant the use of lethal force. A criminal investigation is underway, with the U.S. Department of Justice at the helm. Castile was shot in Falcon Heights, Minnesota, while sitting in a vehicle next to his girlfriend, USA Today reported. His girlfriend got the shooting on camera. Both cases shocked the country and renewed calls for increased scrutiny of police departments across the country.