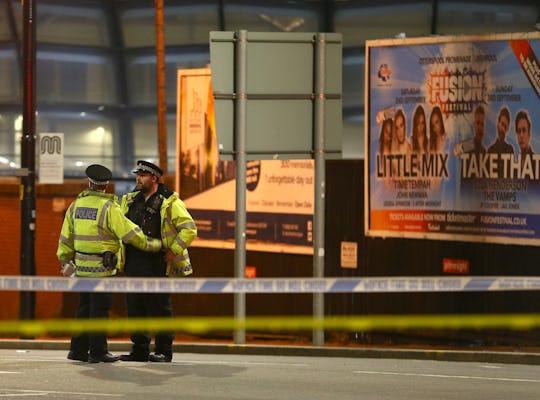 Dave Thompson/Getty Images News/Getty Images
Reports Of An Explosion At Ariana Grande's Concert
After thousands of concertgoers reportedly fled the Manchester Arena in the United Kingdom, many are wondering what happened at Ariana Grande's concert on Monday evening. While there is no official report as to what exactly happened yet, local police have stated that there were "a number of confirmed fatalities and others injured" after various accounts on Twitter claimed there were two loud bangs at the venue.
UPDATE: BBC reported at 11:40 a.m. local time Tuesday that 22 people have been confirmed dead and 59 injured in the Manchester Arena explosion.
UPDATE: In a statement early Tuesday morning local time, Manchester Police spokespersons said, "Just before 10.35pm on Monday 22 May 2017, police were called to reports of an explosion at Manchester Arena. So far 19 people have been confirmed dead, with around 50 others injured. This is currently being treated as a terrorist incident until police know otherwise."
In a separate tweet on Monday night, Grande wrote, "broken. from the bottom of my heart, i am so so sorry. i don't have words."
EARLIER: British police have referred to the incident as "serious" and issued a statement that emergency services had responded to "reports of an explosion" at the arena. NBC News reported that at least 19 people were killed and possibly "hundreds" of others were injures.
Authorities immediately began telling people to avoid the area as they continued to evaluate the scene and investigate the incident. According to Billboard, Grande was reportedly "okay" and her team was also working to figure out what happened.
Videos and photos on social media show a panicked scene with people screaming inside the venue and fleeing the area while paramedics attended to bloodied people outside with torn clothes.
According to ABC News, an eyewitness said that he was waiting outside the concert and "was blown over by the force of the blast from near the box office." Once he came to, he reportedly saw many casualties around him, maybe 20 or more, although he was unsure if they were injured or dead.
According to the BBC, other witnesses said they heard two loud bangs, the cause of which is still unknown, reported to be near the ticket office of the arena.
Another concertgoer told Reuters it happened as they were making their way out of the venue. "It was a huge explosion," she told Reuters, "You could feel it in your chest. It was chaotic. Everybody was running and screaming and just trying to get out."
One Twitter user recorded the chaotic aftermath as they fled the venue:
Another video shared on Twitter reportedly shows the moment the explosion happened on Monday night. You can hear a loud bang and see the scene brighten on the left side of the video:
In the chaotic aftermath of the blast, people began tweeting that "so far 50+" children who were attending the concert had been taken to a nearby Holiday Inn; Parents were urged to get in touch with the hotel if their child was missing.
The BBC reported that "a lot of children" attended the concert. Mayor of the Liverpool City Region Steve Rotherman took to Twitter on Monday evening and posted that his two daughters who were "caught up in the Manchester explosion."
Manchester Arena is the largest indoor arena in Europe and has a capacity of 21,000 people, according to its website.
There is still little known about those who were killed and injured at the concert as well as the cause of the explosion. As Reuters reported, "Britain is on its second-highest alert level of 'severe'"; Authorities have not ruled out an attack by militants as it's "considered highly likely."