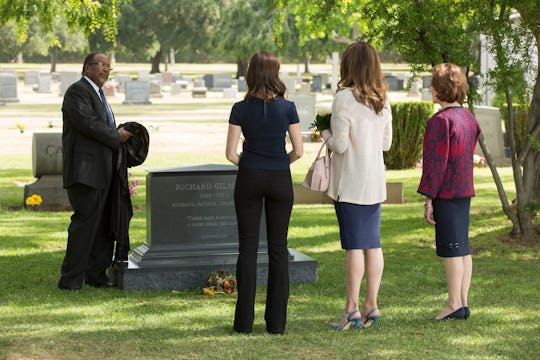 Robert Voets/Netflix
What Happened At Richard's Funeral In The 'Gilmore Girls' Revival? Things Weren't Perfect
(Warning: This post contains spoilers from Episode 1 of the Gilmore Girls revival.) The Gilmore Girls revival premiere is probably the biggest highlight of my year. A show that I grew up watching feels so securely affixed to my childhood, that I can't help but feel the joy, the pain, and the heartbreak that the characters go through. I knew, before it was released, that the reveal of how Richard died would be hard. Edward Herrmann's death was a great loss, and his absence in the revival was very much felt, and what happened at Richard's funeral on the Gilmore Girls revival proved exactly how much of an impact Herrmann and the character had.
In the revival, it was revealed that Richard died from a heart attack. It was sudden, and quite different from Herrmann's own prolonged battle with brain cancer. The funeral itself was rather predictable. And by that, I mean, I cried as if it were my own grandfather who passed. Yes, that's how much impact this show can have on someone. But, it was what happened after the funeral, during the reception at the Gilmore house that truly made an impact.
At the reception following the funeral, Emily asked Lorelai and Richard's friends to go around and recall something about her late husband. As a grieving widow, who so deeply loved her husband, this was not rare. But, it's what Lorelai said that truly made the scene painful, awkward, and heartbreaking. During the time where Lorelai was meant to share a heartfelt moment about her father, she started spouting out moments that her father was absent. When he was not there for her. When he abandoned her.
It wasn't pretty. In fact, it caused an incredibly huge riff between Emily and Lorelai. Emily worried Lorelai would do something similar at her funeral — remember her as someone who hurt her, and didn't love or nurture her (in her very Emily Gilmore way). Of course, Lorelai doesn't only remember her father as someone who wasn't there when she was younger. As we know, the series ended with the two of them truly coming to terms with what their relationship is. It is loving, but it's not perfect. A.k.a., it's basically every relationship between a parent and a child.
The same goes for Emily and Lorelai. They don't have a perfect relationship. They probably never will. But, what we know, is that they love each other. They hit rough patches here and there — what happened after the funeral will certainly put them at odds — but it will be yet another thing they'll get through.