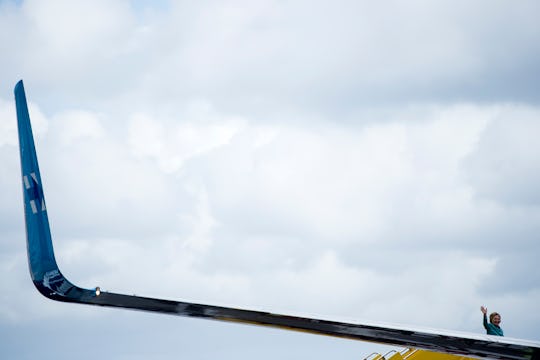 BRENDAN SMIALOWSKI/AFP/Getty Images
Details On The Fort Lauderdale Airport Shooting
A shooter has been taken into custody after a reported incident that has apparently killed at least one person. What happened at the Fort Lauderdale airport? Early details are slim, but a shooting has left several people injured and passengers scrambling to safety.
NBC News reported police are trying to figure out who the shooter is, what the motive could be, and whether the incident is part of a larger plot. "You're trying to understand, is this a one-off guy? Regardless of motive, is he alone, or is there something else?" expert Jim Cavanaugh said on MSNBC, according to NBC News. "We hate to think that way, but that's the requirement for police commanders — to think that way."
CBS video footage shows people gathering on the tarmac following the incident and seeking safety. CBS News said the shooting happened in the Fort Lauderdale airport's Terminal 2, in the baggage claim area.
Eye witness accounts of the incident on social media as it was unfolding paints a chaotic scene, leaving passengers unsure of what was happening. GOP political pundit and Former White House Secretary Ari Fleischer happened to be among the passengers and tweeted this terrifying account, "I'm at the Ft. Lauderdale Airport. Shots have been fired. Everyone is running."
Here's CBS video of passengers and employees walking across the tarmac to safety.
As accounts from Fort Lauderdale stream into newsrooms, it's being reported that as many as three people have been killed in the airport shooting, ITV News reported.
One of the victims was shot in the head, the New York Post reported, citing the Sun-Sentinel, and one person on the scene tweeted out a picture of a victim on the sidewalk who appeared to be badly injured and sitting in a pool of blood.
According to the New York Daily News, the Fort Lauderdale airport posted a message on Twitter just after 1 p.m. local time that there was an "ongoing incident" in the baggage claim.
The Broward Country Sheriff has confirmed "multiple people dead," according to the department's Twitter feed.
The Fort Lauderdale-Hollywood International airport, according to CNBC, has a total of four terminals and handles more than 70,000 passengers and 650 commercial flights daily. CNBC added that Florida Gov. Rick Scott was in transit to Fort Lauderdale to get briefed by local law enforcement on the situation. CNBC also talked to the FBI, which said it's aware of the incident but doesn't have any additional details to provide yet.