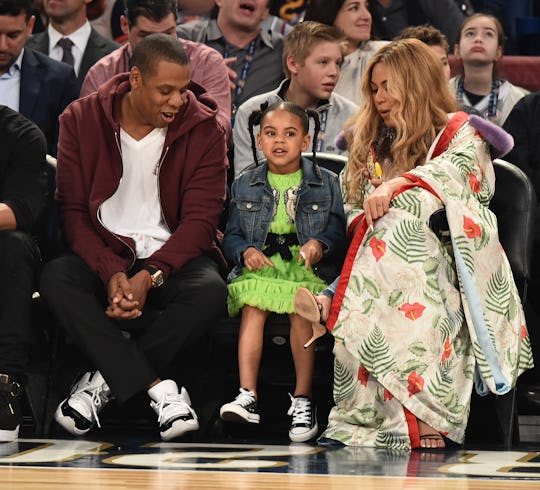 Theo Wargo/Getty Images Entertainment/Getty Images
What Happened At The Hospital When Beyoncé Delivered Blue Ivy?
The world may be anxiously awaiting the arrival of Beyoncé and Jay Z's twins, but unsurprisingly, the couple has been tight-lipped about the details. They obviously have the right to privacy at a time like this, but let's be honest, it's kind of impossible to not be at least a little bit curious about what the headline-making birth might be like. But since Queen Bey's already given birth once before, the good news is that we already have an idea of what might be involved. What happened at the hospital when Beyoncé delivered Blue Ivy? Rumors swirled about the details of her arrival — and not everyone was celebrating.
According to The Daily Mail, Beyoncé gave birth to her first daughter in January 2012 at the Lenox Hill hospital in New York. The new parents spent three days in a private maternity suite that was no doubt much more glamorous than most new moms experience (she is Beyoncé, after all). But following the birth, a variety of stories emerged about what may or may not have happened, including claims that the couple spent more than a million dollars to renovate a recovery suite for the star — complete with a bulletproof door — and that Beyoncé and Jay Z's desire for privacy caused the hospital to go on "lockdown," allegedly preventing new parents from being able to visit their children in the NICU.
According to The New York Times, Brooklyn mom Rozz Nash-Coulon claimed that she'd been blocked by leaving the NICU by a security guard after visiting with her premature twins, and that both the maternity ward windows and the hospital's security cameras had reportedly been covered for Beyoncé's privacy. Another father, Edgar Ramirez, told The New York Times that security guards kept him out of the neonatal unit for three hours, despite the fact that his wife and newborn were inside.
In a statement following Blue Ivy's birth though, Lenox Hill Hospital Executive Director Frank Danza said that stories of Beyoncé and Jay Z receiving special treatment shouldn't be believed. Danza said that "the suggestion that the couple paid $1.3 million to rent an entire maternity floor is simply not true," and that the Carters were actually staying in "an executive suite" that could be rented by any patient for the same standard rate that anyone else would pay. As for the heartbreaking NICU claims? Danza said that, while both the hospital and the family had separate security teams working together, "No security plan that we or the Carters' security team put in place would have prevented or delayed families from gaining access to the NICU." Neither the hospital nor Beyoncé's representative have responded to additional requests for comment regarding Danza's claims.
That's not to say though, that Blue Ivy didn't still end up being born in some pretty swanky digs. According to the New York Daily News, the executive suites at Lennox Hill were newly renovated prior to Blue Ivy's arrival (a detail the hospital claimed was purely a coincidence), and they resembled "top-dollar accommodations at [a] five-star luxury [hotel]."
Each of the suites was reported to feature "flatscreen TVs, lushly upholstered gray and cream sofas adorned with silken throw pillows," and included a kitchenette and sitting area. The cost was said to have been between $700 and $800 per night, but the new parents were thought to have also booked adjacent rooms too — with some speculating that the couple actually rented out the entire floor.
It's not yet clear if the Carters intend on heading back to Lennox Hill for the birth of their twins, or if they plan to give birth elsewhere. Given the amount of attention her pregnancy has received though, it seems likely that wherever she gives birth, it will be just as big of a deal the second time around. And judging by the backlash that occurred in 2012? That might not exactly be welcome news for any other couples who happen to also be delivering babies there at the same time.