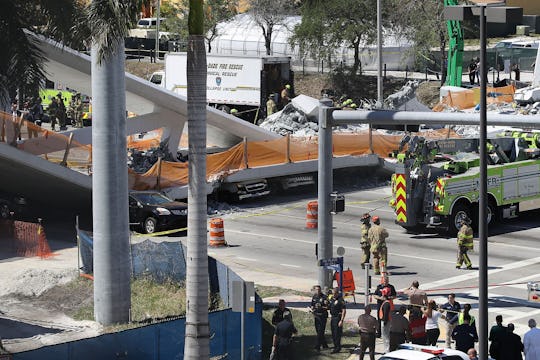 Joe Raedle/Getty Images News/Getty Images
The Miami Bridge Collapse Leaves Behind An Absolutely Tragic Scene
In a world where news is constantly developing, and headlines are being published on a minute-by-minute basis, it can be hard to keep up with everything going on. And with so much political drama happening at the moment, tragedy seems to take second place sometimes. So, what happened at the Miami bridge that collapsed? The pedestrian bridge had just been installed on Saturday before collapsing Thursday afternoon, resulting in at least one fatality and numerous injuries.
The bridge was located on Florida International University's campus, and it is still unclear about what caused the collapse of the bridge. Florida Highway Patrol apparently reported that "Five to six vehicles were crushed in the collapse," according to ABC News. Fortunately, it seems as though no people were on the bridge when it collapsed, as it wasn't yet open to the public. As more and more details come in, though, it appears that an investigation will be required to fully understand what happened Thursday.
And that's something that Florida Sen. Bill Nelson is passionate about. In a tweet, Nelson explained, "Just talked to @NTSB Chairman Sumwalt who confirmed he'll be launching and leading an investigation into the bridge collapse at @FIU." And as more and more details come forward about what happened, the accident just gets more and more unsettling.
While the reason for the bridge collapsing is still unknown, there's a lot that is known about what happened Thursday. According to The Miami Herald, when the bridge was first installed, it was almost "instant." In a March 10 article, the local paper reported that "in a single morning Florida International University dropped a new elevated pedestrian span into place over the Tamiami Trail to provide students a safe route over the perilous roadway for the first time."
Before the bridge was there, pedestrians had to walk through heavy traffic in order to cross the street. So, the bridge appeared. And then, five days later, it collapsed. At the time when the bridge first appeared, The Miami Herald also said that it was done in a new way. "The innovative installation method significantly reduced risks to workers, pedestrians and motorists and minimized traffic disruptions," the newspaper reported. So really, the collapse is likely a shock to everyone involved.
Officials at FIU shared their sentiments with ABC News in a statement on Thursday after the collapse, saying they were,
Shocked and saddened about the tragic events unfolding on campus. At this time we are still involved in rescue efforts and gathering information. We are working closely with authorities and first responders on the scene.
The bridge truly was newsworthy, even from its beginnings. As CNN reported, it had a variety of specs to it that should have made it quite a marvel. Per CNN, the bridge was "designed to withstand a Category 5 hurricane," as well as "exceed 100 years," due to how strong it was. Additionally, CNN reported that "It's the first bridge in the world to be constructed entirely of self-cleaning concrete: It's made of titanium dioxide which, when exposed to sunlight, captures pollutant particles from the air and cleans its own concrete surfaces."
However, the $14.2 million project is now the subject of intense investigation. According to a tweet from Fox News, the Miami-Dade Police Director explained, "Causes of what occurred here today…we will not speak to that right now, and it'll probably be days before we can even make that assumption…"
So, for now, it seems as though no exact cause of the bridge collapse has been named, and until then, all those involved will be wondering what went wrong.