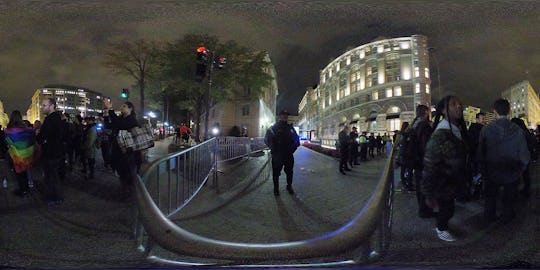 Alex Wong/Getty Images News/Getty Images
Here's What Actually Happened At The Trump Int'l Hotel
On Wednesday, a guest at the Trump International Hotel in Washington, D.C. was arrested by police after several guns and rounds of ammunition were allegedly found in his car. The incident caused its fair share of attention, but fortunately, things were resolved fairly quickly and peacefully. In case you missed it, here's what happened at the Trump International Hotel and what will happen next in the rather mysterious case.
According to ABC News, around 12:30 a.m. local time, Pennsylvania State Police contacted both the Metropolitan Police Department and the Secret Service with a tip: A man, Bryan Moles, would possibly be checking into the Trump International Hotel, allegedly carrying both weapons and ammunition.
Dorian Adamik, police chief in Cambridge Springs, Pennsylvania, told ABC News that a resident's daughter had allegedly received a text message from Moles saying "something to the effect of he was traveling to D.C. with a carload of weapons and he was going to visit the president."
The tipster, who remained anonymous, claimed that Moles allegedly made threatening remarks and passed relevant information on to the Pennsylvania State Police, according to The Washington Post. At around 1:50 a.m., police found Moles' car — which he had reportedly given to hotel valet — in the hotel parking lot and allegedly spotted a weapon in plain view. Another weapon was allegedly found in his glove compartment. In total, officers claimed that they retrieved one pistol, one assault rifle, and 90 rounds of ammunition from his car.
Moles, a 43-year-old Pennsylvania physician, was arrested and charged with illegal possession of ammunition and possession of firearms without a license, according to The Washington Post. Friends reportedly told the newspaper that Moles was allegedly an ardent President Trump supporter, and one longtime friend said that Moles reportedly grew up in a rural setting, with plenty of guns around, insinuating that the alleged incident had been unintentional.
"If he was going to assault anyone, we would know. It wouldn't be ambiguous," Lisa Della Ratta, a Florida nurse and reported friend, told The Washington Post. "He probably didn't know you couldn't take guns into the District."
Officials were not certain what had prompted Moles to make the trip to the hotel. According to BuzzFeed News, D.C. Police Chief Peter Newsham told reporters that Moles was "sharing information" but that there was not enough information available at the moment to charge him with making threats.
According to The Washington Post, Moles will have his initial appearance in court on Thursday, when the public might find out more information. Until then, officials said the bizarre incident should serve as a good reminder to say something if you see something suspicious.