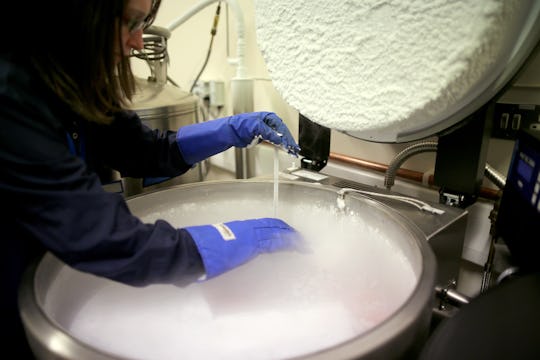 Christopher Furlong/Getty Images News/Getty Images
Thousands Of Eggs & Embryos Were Damaged At A Fertility Clinic & It's Heartbreaking
Anyone who has gone through the process of in vitro fertilization (IVF) can probably tell you how difficult (both physically and emotionally) the process can be. From taking daily injections, to monitoring ovulation, harvesting eggs, more injections, creating embryos, seeing how many viable embryos resulted (if any,) to transfer day, it can certainly be a rollercoaster ride of hope and fear — especially since it can take multiple rounds of IVF to result in a pregnancy. Given that the process is so time-consuming, expensive, and invasive, many people are probably wondering what happened at this fertility clinic in Ohio. Because thousands of eggs and embryos were damaged.
Romper has reached out to UH Fertility Center for comment, but did not immediately hear back. On March 3, more than 2,000 frozen eggs and embryos might have been compromised as a result of a malfunction with a refrigerator at a fertility clinic near Cleveland, Time reported. Apparently, the temperature in one of the two large freezers rose above the acceptable limit overnight. And so far, no one has an explanation for what happened, said Patti DePompei, president of University Hospitals Rainbow Babies and Children's Hospital and MacDonald Women's Hospital.
"Over the weekend, due to reasons unknown at this time, we experienced unexpected temperature fluctuations in the liquid nitrogen storage bank that contains stored eggs and embryos for patients in our fertility center," DePompei said in a Facebook video posted on Thursday. "At this point, we do not know the viability of all the stored eggs and embryos, although we do know some have been impacted. We are conducting a deep investigation, and have consulted with a number of experts to better understand the cause of this temperature fluctuation and ensure it doesn't happen again."
In the meantime, the specimen have been moved to another storage tank, which is being monitored 24/7, reported Cleveland.com. The fertility clinic is also reaching out to each patient individually — both through a written letter and with a phone call from their person doctor, DePompei explained in the Facebook video. She added:
We are so very sorry this happened, and we want to do all that we can to support our patients and families through this very difficult time.
Roughly 700 patients have been notified that their eggs and/or embryos may have been damaged, according to Cleveland.com. (And some of these patients had provided samples as far back as the 1980s.) To put things in perspective in monetary terms, patients pay around $12,000 for IVF; it isn't yet known how patients affected by the malfunction will be compensated.
As I sit here and try to imagine the full impact of this equipment malfunction, my heart aches for all of the families that have been affected. For the women who may have preserved their eggs years ago and are currently beyond their fertile years. For the women who had their eggs frozen before undergoing cancer treatment that would leave them infertile. For all of the couples who went through IVF and had plans of adding to their families in the future. For other couples who are in the midst of IVF with no guarantee of viable embryos if this cycle fails. For the doctors who are probably aching right along with their patients.
There are so many questions still unanswered: What will the fertility clinic do to "make up" for such a devastating loss? Did the liquid nitrogen tank malfunction strictly because of a mechanical issue, or was there a human error, as well? Whatever caused the temperature within the tank to drop past acceptable levels, I hope the answer is found soon — and that some sort of back-up system is put into place, if one isn't already. Because with the amount of time, energy, and money that's put into the IVF process by patients who are likely facing infertility, something like this should never happen.