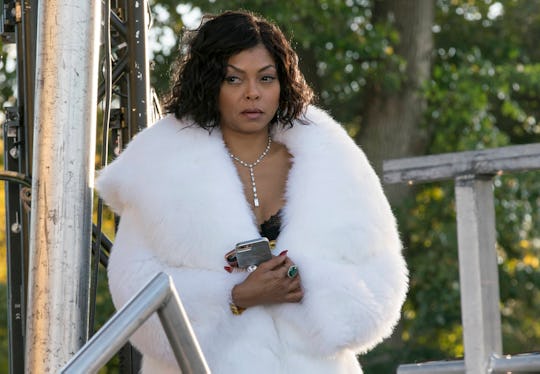 Chuck Hodes/FOX
What Happened Between Cookie & Her Dad On 'Empire'? It's Pretty Heartbreaking
This season of Empire has given us a glimpse into Lucious and Cookie's teen years like we've never seen prior. We've seen how the two fell in love – and on Wednesday, we saw the star-crossed nature of their relationship. When Lucious was courting Cookie, her family noticed she was participating in dangerous behavior. This lead to an inevitable rift, and one that Cookie still harbors to this day. Her relationship with her father was especially strained. What happened between Cookie and her dad on Empire? It's pretty hard to watch.
Cookie's father had big aspirations for her. She thought she would marry a president – or better yet, be president herself. In a flashback, he said that she planned to go to Howard University and then medical school. She then fired back, however, and said he put too much pressure on her.
Unfortunately, that was just the beginning of the break down of their relationship. This is because, as Cookie said, all roads lead to Lucious. Her father was brought to tears thinking about Lucious' influence on her, and he ended up kicking her out. To make matters worse, he suffered a heart attack soon after – and Cookie's sister was not hesitant to blame her. He passed away, and his death continues to haunt Cookie.
Cookie's past was boiling up again from both her family and her love interest, Angelo. Jamal dug up old family video, including that from Cookie's father's birthday. This brought back painful memories and Cookie was furious at Jamal for even finding the video. But poor Cookie couldn't catch a break: Angelo wanted Cookie to meet his mother, Diana, who thinks of Cookie and the Lyons as beneath her.
While Cookie will always miss her father, her spirits turned towards the end of the episode. Jamal was inspired by the home videos and wrote a song dedicated to Cookie and her struggle called "Mama." Cookie was, as expected, moved to tears – and surprisingly, so was Lucious. Not only that, but Diana seemed to grow more accepting of the family. She told Cookie, "You got fire in you," but couldn't let her go without a warning: "just make sure the fire doesn't burn in my child." Cookie can rest easy knowing that despite their fall out, her father would definitely be proud.