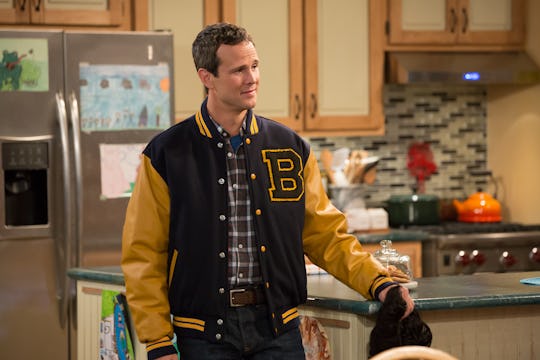 Michael Yarish/Netflix
What Happened Between D.J. & Steve On 'Fuller House'? Season 1 Rekindled An Old Flame
Netflix is gifting fans with a second season of Fuller House, which releases Friday, Dec. 9th on the streaming service. Elder sister D.J. Fuller (née D.J. Tanner) stars as the reboot's lead character around whom all the sitcom-y shenanigans unfold. Among her storylines, as she adjusts to widowhood back in her childhood home, is a love triangle between herself, her high school sweetheart Steve, and a new character named Matt. So what happened between D.J. and Steve on Fuller House during its first season? Here's a rundown of their hot and steamy (read: tepid and child-appropriate) romance.
We learn in the pilot that Steve still lives in San Francisco and is the proud dog dad of Comet Jr. Jr., the apparent offspring of the Tanners' old golden retriever from the original series. She (Comet Jr. Jr., that is) is going into labor and D.J. just so happens to be a veterinarian. After reuniting with newly single D.J., wheels start turning for Steve.
When he visits her at her vet's office, he notices a spark (a sbark?) between her and Matt, a coworker and fellow vet. Steve does some detective work and learns that Matt is also single, though only visiting from Miami, which he takes small comfort in. Unfortunately, after D.J. and Matt go on a few successful dates, Steve is forced to watch them smooch on a kiss cam at a Giants game, so D.J. decides that she has to tell Steve there's no hope for them. Of course, Steve tries to kiss her, which sparks her old crush, making her realize that since Matt is going back to Miami, maybe she should just get back together with Steve after all.
She decides to keep dating both of them in a Kimmy-and-Steph-devised The Bachelorette parody (which involves lifting this literal date plotline from multiple different seasons of the ABC show) when Steve dresses up as his high-school self and takes D.J. on a series of nostalgia adventures as a date. Just as D.J. decides Steve is the one for her — you guessed it — another twist.
Matt has decided to move to San Francisco permanently after all, since his dad has left the vet practice to him. He brings D.J. in as a part-owner, which, of course, would melt any woman's heart. D.J. stages yet another rose ceremony to finally announce... that she still wants to keep dating both of them. So D.J. hasn't settled on either guy yet as we head into Season 2, but for you D.J./Steve 'shippers, he's definitely still in the game.