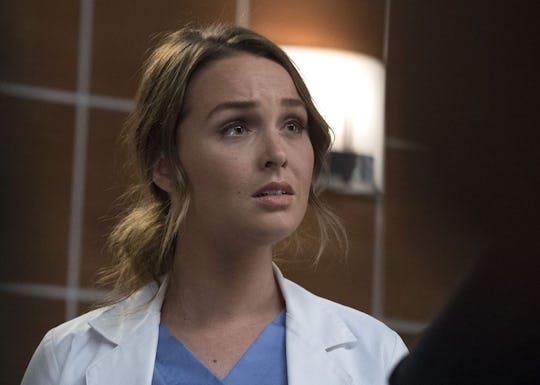 Richard Cartwright/ABC
Jo Is About To Face Her Worst Nightmare On 'Grey's Anatomy'
Grey's Anatomy returns this week and after another jaw-dropping cliffhanger at the end of the Season 14 midseason finale fans have a lot of questions. So much went down in the finale, but it left off with Jo coming face to face with her abusive husband, Paul Stadler. Now that he's back in Jo's life, many fans want to know what happened between Jo and her husband on Grey's Anatomy? There's so much about their relationship we still don't know.
Jo first revealed the truth about her past in the Season 12 finale after she and Alex seemingly broke up because she refused to marry him. Jo ended up getting drunk and after DeLuca took her home, she started to explain that when she was young she was living in her car until she met a man, Paul, who took her in. She fell in love with him and she said everyone loved him too. But his need to be loved by all is what also drove him to hit Jo when she made a simple mistake or did something he didn't approve of.
"He would hit me in my face," she said. "On my stomach or...nobody knew that but me. So I ran."
However, Jo decided this season that she's tired of running. Wanting to have it all with Alex she decided to take the risk of filling for a divorce from Paul, knowing that it would most likely lead to him finding her. Unfortunately, it did and he arrived at the worst time possible.
When Jo was running to stop Alex from possibly giving a child a drug he didn't need, she was completely stopped in her tracks when she ran right into Paul, who called her by her real name, Brooke. "Or wait, it's Jo now, right?" he asked with a smile. Jo said nothing, staying frozen and that's right where the midseason premiere will pick back up. Based on the promotional photos for the episode, though, it looks like Arizona will come to Jo's rescue, whether it's knowingly or not.
Because the episode will be focused primarily on Jo and the domestic violence she suffered from, the producers behind the series decided to change the episode title from "Four Season in One Day," to "1-800-799-7233," the phone number for the National Domestic Violence Hotline. This marks the first time in Grey's history where the episode isn't named after a title of a song. Executive producer Krista Vernoff revealed on Twitter that it was actually actor Giacomo Gianniotti (DeLuca) who suggested the title change.
Because this episode will be dealing with such a heavy topic, you'll probably want to grab your tissues and be prepared to bawl your eyes out. It's unclear what exactly Paul is doing at Grey Sloan Memorial Hospital, besides trying to get to Jo, obviously. However, Matthew Morrison, who plays the character, is set to have a recurring role this season so unfortunately for Jo, Paul will probably be sticking around for at least a little while.
In addition to Paul, TVLine has also reported that One Tree Hill alum Bethany Joy Lenz will have a recurring role as well, reportedly playing Paul's fiancée. No doubt this will also cause trouble for Jo, who knows firsthand what Paul does to the women he supposedly "loves." Will Jo try to get involved and warn Paul's fiancée (that's if she hasn't already suffered at the hands of him yet) or will Jo stay out of it and focus on keeping herself safe? It's difficult to know for sure, but thankfully fans won't have long to find out.
Grey's Anatomy returns Thursday, Jan. 18 at 8 p.m. EST on ABC, followed by the midseason premieres of Scandal and How to Get Away with Murder.
Check out Romper's new video series, Romper's Doula Diaries:
Watch full episodes of Romper's Doula Diaries on Facebook Watch.