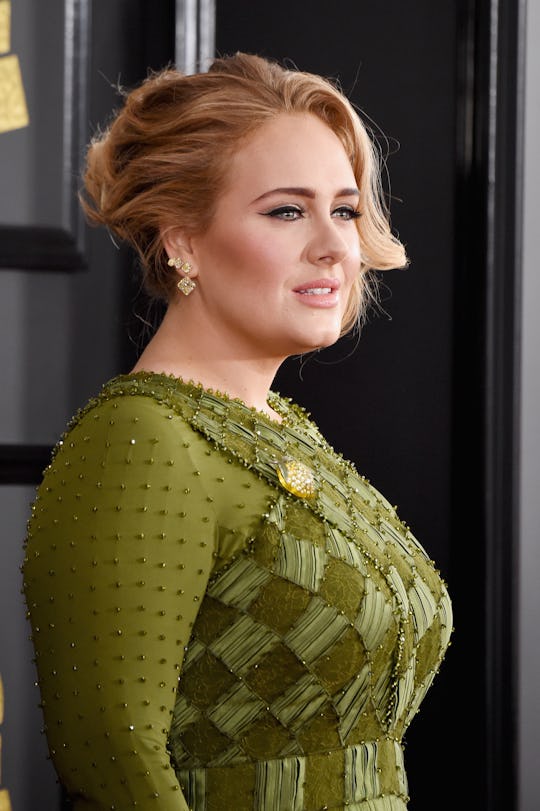 Frazer Harrison/Getty Images Entertainment/Getty Images
What Was Up With Adele's George Michael Tribute?
In honoring the late George Michael, Adele asked, on live television, if she could have a redo on the whole thing. "I'm sorry, I can't mess this up for him," she pleaded, apologizing to producers and audience members alike. So just what happened during Adele's George Michael Grammys tribute that caused her to completely start over? In her eyes, what she had done thus far was unfixable.
Something sounded off as Adele began her rendition of Michael's "Fastlove." Not even a minute into singing, Adele started swearing, saying "I f*cked it up." She then apologized, saying: "I'm sorry for swearing. ... Can we please start it again? I can't do it like I did it last year."
"Last year" refers to Adele's 2016 Grammys performance — one that had some severe sound issues of its own. An unfortunate sequence of technical difficulties thwarted her singing of "All I Ask." In response to the mess-up, she shrugged it off afterward, saying "sh*t happens."
In starting "Fastlove" the first time, Adele began singing off-key, which was made more apparent as the full orchestra behind her crescendoed. After the brief pause and appeal, Adele was able to begin again — a superb choice that ultimately earned her a standing ovation. As Rolling Stone described it, the second time around the song was performed with "stunning command, building to a chilling belt over a striking new arrangement that featured an ominous piano melody and a growing swell of strings." As the audience clapped, standing to praise her, Adele began to cry.
Michael passed away on Christmas Day of 2016 at only 53 years old, reportedly of heart failure. The Wham! singer's loss was deeply felt, so of course the Grammys were an appropriate venue to pay tribute to him.
You can watch a video of the incident below:
Last year's Grammys performance prepared her perfectly for this moment. As Adele told Ellen DeGeneres:
Next time I have any sound issues, I am going to start over. [I will tell them,] "Sorry, that's not working for me." Otherwise… bye!
Towards the end of the night, Adele was completely redeemed, winning Song and Record of the Year with "Hello" off of her album 25, a work which also won her Album of the Year. In her first acceptance speech, she brought up her previous flub, apologizing again for cursing and for potentially offending anyone. In her final, teary acceptance speech, Adele noted that, though it felt "full circle" to win, Adele had to dedicate the award to Beyoncé's Lemonade.