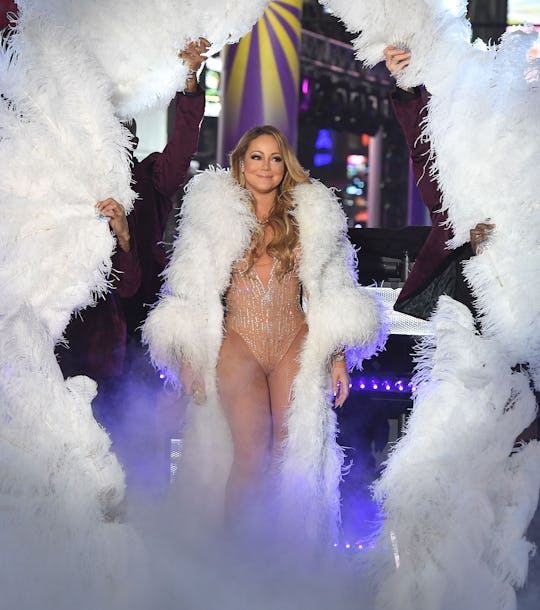 ANGELA WEISS/AFP/Getty Images
Mariah Carey's NYE Performance Was A Disaster
The year that was 2016 can hardly be described as "normal," so it makes perfect sense that its end was as disastrous and memorable as its entirety. While most of us were happy to see this year end, and usher in 2017 with a desperate hope, anyone watching Dick Clark's New Year's Rockin' Eve were left scratching their head in complete disbelief, wondering "What happened during Mariah Carey's New Year's Eve performance?" Perhaps it was 2016 getting one more unnecessary shot in before 2017 started. Or, perhaps Carey's embarrassing snafu was nothing more than the result of overindulgence. Really and truly, can we blame her?
After the ball dropped and in an attempt to sing her hit, "Emotion," a reported vocal track malfunctioned and threw Carey off. She spent the entirety of her first performance pacing back and forth on stage, talking to the audience and attempting to make light of what can only be described as a horrible performance. "I want a holiday, too. Can I not have one?" Carey asked the audience, before saying, "I'm trying to be a good sport here." All the while Carey talked to the audience and interacted with her back-up dancers (who continued to dance as if nothing was wrong, a true accomplishment if there ever was one), a recording of her voice played on.
Clearly there was a technical issue, but more than a few people (myself included, if I'm being honest) were wondering why the singer wasn't capable of finding a point in her performance to pick up and carry (pun intended, don't hate me) on. Carey's comments about "needing a holiday, too" suggest that, perhaps, the singer was indulging in a few end-of-the-year libations, but that's nothing more than an unfounded and completely presumptuous hypothesis. I, for one, wouldn't be surprised if 2016 just exhausted Carey to the point of no return. Clearly, she wouldn't be the only one.
Sadly, this isn't the first performance issue Carey has had. In 2014 an isolated, unedited version of Carey's vocals to "All I Want For Christmas Is You" were released of her Rockefeller Center Christmas performance on NBC, during the tree lighting ceremony. The performance was, well, less than "ideal," and left many disappointed fans to question the award-winning performer's capabilities. An unfair question, considering Carey's talent. However, her somewhat tone-deaf performance in 2014 coupled with her New Year's Eve disappointment isn't necessarily a good look.
In fact, it was a look more than a few people had feelings about. Many viewers, in the middle of ushering in a new year, took to twitter to voice their opinions on Carey's performance. Here are just a few:
Regardless of what happened or what caused Mariah Carey to struggle so painfully and on such a public stage, we should all (collectively, and individually) thank her. In the end, Carey gave us one last thing to blame 2016 for. Thank you, Mariah.