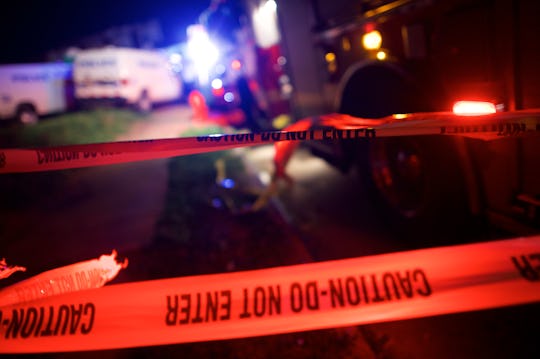 Mark Makela/Getty Images News/Getty Images
Here's What We Know About The Bombings In Austin
The fourth in a series of explosions shook residents in southwest Austin, Texas around 8:00 p.m. on Sunday, injuring two men. Investigators are looking into any potential connection between this and previous bombings in the city and have advised residents to take caution, according to the BBC. Details are still being released as authorities determine just what happened in Austin, but there have been no arrests at this time.
In a news conference held late Sunday night, Austin Police Chief Brian Manley told residents of southwest Austin to remain at home until 10:00 a.m. CST to give authorities the opportunity to investigate the scene in the daylight, NBC reported. School buses were kept out of the area at the request of the police and many children were kept home from school. Manley said investigators also think the explosion could have been triggered by a tripwire. Two men were injured in the blast and have been hospitalized with serious, though non-life-threatening injuries, according to USA Today.
The explosion on Sunday came just hours after authorities announced a $100,000 reward for information pertaining to the prior explosions. The latest reward comes on top of the $15,000 that Texas Gov. Greg Abbott has offered for information. Despite the help of hundreds of federal agents, local police have yet to make any arrests in connection to the bombings, according to CNN.
Police and other authorities have advised the public to be on the lookout for suspicious packages, as the first three bombings were all caused by parcel bombs left on residents' doorsteps, New York Daily News reported. Authorities have received numerous tips, responding to 735 reports of suspicious items since last Monday. In his press conference, Manley said that the latest development of a possible trip-wire bomb calls for an adjustment in precautions taken by the public, according to the BBC:
That changes things in that our safety message has been about the handling of packages. We need the community to have an extra level of vigilance and pay attention to any suspicious device. Do not approach it. Call 911. We do believe that this was a bomb that exploded, but it was not similar to previous explosions. We are working under the belief they are connected but we have not processed the scene.
The parcel bombs left a total of two people dead, and two more injured since early this month. The first, which exploded on March 2, killed Anthony Stephan House, 29, at his home. On March 12, two more bombs went off with one killing Draylen William Mason, 17, and injuring his mother when he brought the parcel into his home, according to the New York Daily News. Several hours later, an elderly Hispanic woman was injured by a similar package left on her doorstep. Police are under the impression that the attacks are connected, though they have not determined a motive as of yet.
The two fatalities were African American men, and the local National Association for the Advancement of Colored People (NAACP) president Nelson Linder told NBC News that the two murdered victims were connected by the same Methodist church and had ties to prominent African American families. Race could be a motivation, as local news outlets have speculated that the bomb received by the Hispanic woman was intended for someone else. Manley said the Austin Police Department have not ruled out race as a potential motive:
We don't have any evidence. What we know for certain is: We have three victims that are victims of color, and we have three package bombs that have exploded on the east side of Austin.
Police are asking anyone with any information on the bombings to come forward, and for the responsible party or parties to turn themselves in immediately. If you have any information, contact the Austin Police Department at its tip hotline: 512-472-TIPS (8477) or 800-893-TIPS (8477).