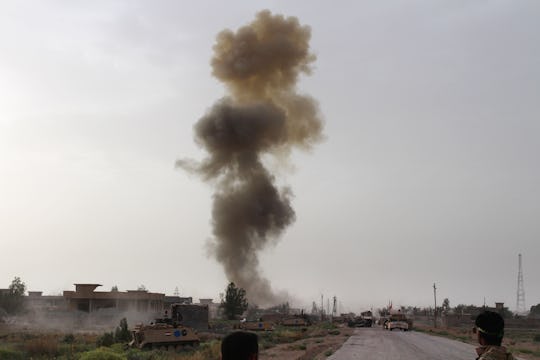 MOADH AL-DULAIMI/AFP/Getty Images
What Happened in Cairo, Egypt? ISIS Just Made Headlines Again
With everything that is going on in the upcoming presidential election, it is sometimes hard to understand what is going on outside of the United States. Often times, it is easy to lose focus on major foreign issues when politicians in the United States are making jokes and taking pictures with taco salads. So don't feel ashamed if you ask what happened in Cairo, Egypt?
An ISIS related attack just outside of Cairo, Egypt in the town Helwan just made the headlines. According to Reuters, just overnight before Sunday morning, gunmen killed eight plain clothes policemen. ISIS then claimed the assault as one of their own. The four attackers from ISIS who wore masks, rode in a pick up truck and drove past a police vehicle, firing their guns at it and then fleeing the scene shortly after.
In a statement, ISIS said that the attack was part of its Abi Ali An-Anbari campaign, which has carried out bombings and attacks in Iraq — but, according to Reuters, there is no clear link between how this attack in Egypt was linked to the Iraqi campaign. In the same statement, ISIS said that the attack was also carried out in revenge for the imprisonment of women in Egypt but did not offer any more details after that.
According to International Business Times, Egypt's interior ministry reportedly said, "Security troops are coming the area and making all efforts to arrest the criminals. All legal measures have been taken."
Egypt's government is facing a rebellion that has killed hundreds of soldiers and police men since mid-2013 when the then-army chief ousted the Islamist President following protests.
This attack comes shortly after a new discovery on Saturday, which found more than 50 mass graves throughout Iraq, in lands that ISIS had previously occupied, linking the graves to ISIS and the crimes they have committed in that region. This comes on the heels of a discovery on April 19 that revealed mass graves linked to 40 people in central Ramadi. According to UN Special Representative Jan Kubis, this provides "additional evidence that the group may be committing mass genocide." Wow.
This news also comes after the Turkish military killed 55 ISIS fighters on Saturday evening. According to Reuters, more than 300 civilians were killed in two weeks of fighting between the two groups in the Syrian city of Aleppo.
While so much is going on in the United States, the most recent attack in Egypt reminds us that ISIS is still a very serious threat over seas and continue to leave a destructive path in its wake.