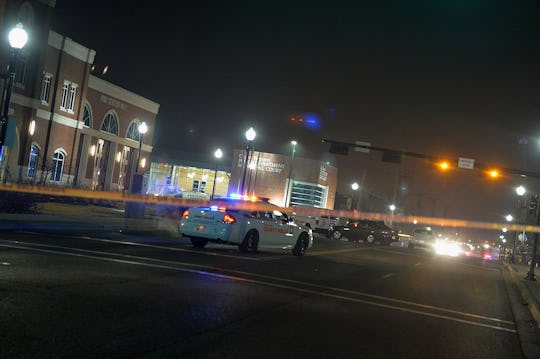 Michael B. Thomas/Getty Images News/Getty Images
Several People Killed In Fresno Shooting
On Tuesday, tragedy struck in Fresno, California, when a man opened fire downtown. The Fresno shooting left three men dead, CNN reported. The gunman had previously been accused of killing a security guard at a motel.
According to police, the suspect allegedly shot three white men at random within blocks of one another on Tuesday morning. He allegedly opened fire on two others as well, but luckily, they escaped uninjured. Fresno Police Chief Jerry Dyer said that the alleged gunman was in custody, and that he shouted "Allahu Akbar" ("God is great" in Arabic) when the police tackled him. Dyer stressed that police could not yet tell if terrorism was a factor, and told reporters at a news conference, "What we know is that this was a random act of violence. There is every reason to believe he acted alone."
Police believe that the alleged gunman, age 39, previously killed Carl Williams, an unarmed security guard at a Motel 6 who was shot multiple times on April 13. Authorities said that the alleged shooter was homeless, although in speaking to The Los Angeles Times, his grandmother said that he had always been able to stay with relatives if he needed to.
It seems that the alleged gunman had not appeared to be well in the days before the shooting, according to family members, and reportedly had a history of speaking on social media about racial conflicts and hating white people.
According to the alleged gunman's father, the killings were his son's "contribution to a war he believed was ongoing between white and black men." Previously on his Facebook page, the man had allegedly referenced "white devils," while on Monday, the day before the shootings, he wrote, "MY KILL RATE INCREASES TREMENDOUSLY ON THE OTHER SIDE ASÈ ALLAH U AKBAR."
One of the victims was an employee of Pacific Gas & Electric Co. He was allegedly sitting in the passenger's seat of his work truck when the alleged gunman came up and randomly shot him. The other two victims were reportedly shot outside of a Catholic Charities location.
The alleged shooter had previously been arrested on weapons and drugs charges, as well as for making terrorist threats, according to law enforcement, and he had a history of being associated with gangs. On Tuesday, he allegedly fired 16 rounds in less than a minute with a high-caliber pistol and a speed reloader.
It's a terrifying and senseless crime, and our hearts go out to the families and friends of the victims.