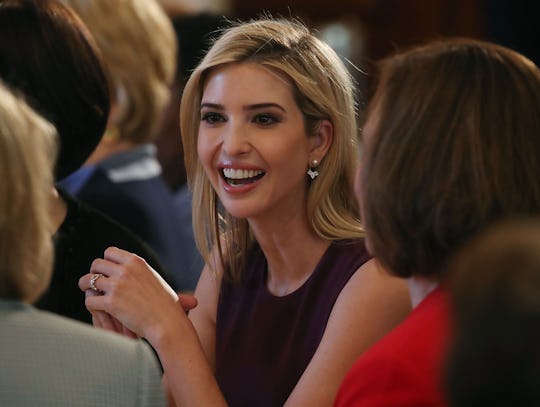 Mark Wilson/Getty Images News/Getty Images
Ivanka Trump Had A Meeting With Planned Parenthood
Throughout both her father's campaign and presidency, Ivanka Trump has spoken out about pay equity and child care. For many, Ivanka's passion for women's issues are a stark contrast to the Trump administration's policies that could negatively impact women. Now there are reports that Ivanka secretly reached out to meet out with progressive women's groups, including Planned Parenthood. So what happened in Ivanka Trump's Planned Parenthood meeting?
Dawn Laguens, executive vice president of the Planned Parenthood Federation of America, told Politico that one purpose of the meeting was to clear up misunderstandings about how federal money is spent at Planned Parenthood. Many who want to defund Planned Parenthood are against abortion, but federal money can't be used for abortion services because of the Hyde Amendment, unless the abortion is the result of rape, incest, or if the mother's life is threatened. Laugens added:
The purpose of the meeting, from Cecile's point of view, was to make sure that Ivanka fully understood what Planned Parenthood does, how it is funded, and why it would be a terrible idea for Planned Parenthood to be removed from being able to see Medicaid patients.
According to Laugens, Ivanka also wanted to learn "more about the facts of Planned Parenthood." The White House did not immediately respond to Romper's request for comment.
Sources close to the meetings told Politico that Ivanka also met with Marcia Greenberger, co-president the National Women's Law Center, and Judy Lichtman, senior adviser to the National Partnership for Women and Family.
Litchman told Romper exclusively that the purpose of their meeting was "to discuss our policy positions on the issues critical to women's health, equity and economic security." Because of Ivanka's public statements, "we thought it was important for her to understand our strongly held advocacy positions on key issues affecting women and families," she added.
Although the meeting with Richards went well, the outreach did little to incite Ivanka to defend Planned Parenthood. In March, Richards called on Ivanka to stand up against the since-failed American Health Care Act, which would have ended coverage for essential services such as maternity care. "It's time for Ivanka to...stand for women," she told BuzzFeed News. Even though AHCA failed, Vice President Mike Pence recently broke a tie in the Senate to allow states to block Title X family planning funds from health providers that perform abortions. But again, nothing from Ivanka.
While Ivanka is normally silent about political issues, Ivanka has always said that women's issues are close to her heart. "I don't express my views on policy, with one exception as it relates to child care and advocating for women," Ivanka said at Fortune's Most Powerful Women Summit in October.
But it's a policy Ivanka has inconsistently advocated for. In February, Ivanka held a dinner about women in the workplace with CEOs from General Motors and Walmart. And recently on Equal Pay Day, Ivanka wrote on Twitter that "We must work to close the gender pay gap!"
That inconsistency has bothered women's rights advocates.
"You don't get to have it both ways," Laguens told Politico.
You don't get to say, I'm all for economic empowerment, and ignore that 30 percent of wage gains are directly attributable to access to birth control. You don't get to say women should have great child care when maternity benefits are on the chopping block.
Since Ivanka has also taken on an official role in her father's White House — as a special assistant to the president — her voice is an especially important one in the defense of women's rights. That's why for many, her silence on Trump administration policies that may hurt women is loud and clear.