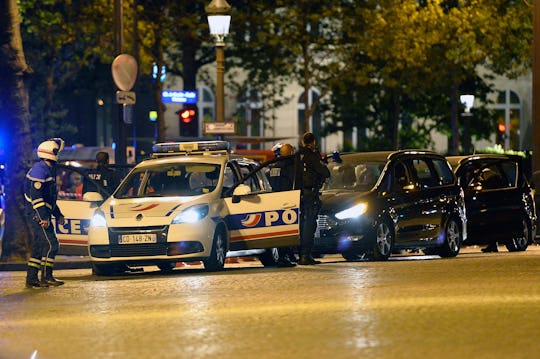 Aurelien Meunier/Getty Images News/Getty Images
Trump: Paris Police Shooting An "Act Of Terror"
One police officer was killed and two others were wounded in Paris, France on Thursday, French authorities reported, after an attacker, who is now deceased, opened fire on a police van with an automatic weapon. Details behind the shooting are still developing, so many are left wondering: What exactly happened in Paris? Police have not released a motive or theory behind the attack in the the famed Champs-Élysées in the French capital, but President Donald Trump has already claimed that it was an act of terror.
"Our condolences from our country to the people of France," Trump said at a news conference alongside Italian Prime Minister Paolo Gentiloni at the White House, according to CNN. "Again, it's happening, it seems. I just saw it as I was walking in, so that's a terrible thing. And that's a very, very terrible thing that's going on in the world today."
Trump continued, "But it looks like another terrorist attack. And what can you say? It just never ends. We have to be strong and we have to be vigilant, and I've been saying it for a long time."
Meanwhile, Police Secretary Yvan Assioma intially told CNN affiliate BFMTV there were "no theories" about whether this was a criminal act or an act of terror to report as of yet.
However, CNN later reported that French anti-terror prosecutors and the National Intelligence Service are now looking into "terror as a possible motive" in this attack. The BBC also reported that an anti-terrorist investigation has been launched.
Here's a breakdown of what happened on Thursday:
Interior ministry spokesman Pierre-Henry Brandet told the BBC that the attack started around 9 p.m. local time in Paris when a car pulled up alongside a police bus.
A man got out of the car and reportedly opened fire with an automatic weapon, killing one officer immediately, Brandet explained.
The unidentified attacker attempted to run away while continuing to shoot at other officers and injured two more, Brandet confirmed to the BBC.
A bystander was also struck by a bullet in the incident, NPR reported.
The unidentified shooter was then reportedly killed by security forces.
A French official later said that police officers were "deliberately targeted" in the attack and authorities are now looking for potential accomplices, according to CNN.
At approximately 5:30 p.m. Eastern Time, French President Francois Hollande said at a press conference that they are "convinced" that the shooting was a terrorist act, according to the Associated Press.
Thursday's attack comes days before the nation's presidential election on Sunday, which will take place under a state of emergency, which has been in place since November 2015. At the time of the shooting, all 11 presidential candidates were appearing on television, according to NPR.
The BBC reported that Islamist militancy has been "a major issue in the polls" after recent mass attacks claimed by ISIS, which have claimed the lives of 278 people who were killed in jihadist attacks in several European capitals since 2015, according to The Los Angeles Times.
French officials reportedly said the suspect was known to authorities and was previously "flagged as an extremist." Reuters reported that police are now searching the suspect's home east of Paris and have issued an arrest warrant for a second suspect who authorities believe may have been involved in the shooting.
As authorities continue to unravel the details about the incident and those who were involved, it's important to remember that any attack — whether it be terror motivated, a hate crime, a school shooting — is one more that's too many and should act as a harsh reminder to world leaders and citizens worldwide to act together to curb any future violence.