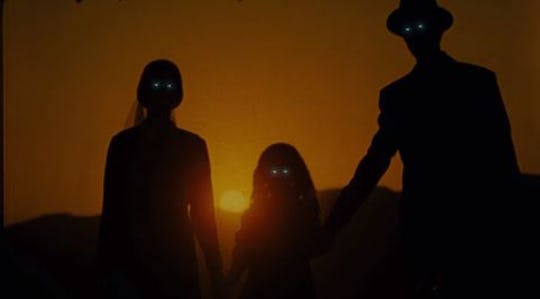 FX
What Happened In Roanoke? 'American Horror Story' Delves Into The Mystery
The theme of American Horror Story Season 6 was kept under lock and key until literally the moment it premiered on September 14. While every other season but the very first hinted at (or flat out revealed) the theme and cast prior to the season's debut, the fact that Season 6 is Roanoke-centric was only revealed when we met Matt and Shelby, this season's apparent main characters who are the focus of a documentary-style series-within-a-series called "My Roanoke Nightmare." But what happened in Roanoke?
Roanoke, as many know, is an actual place – it's a modern city in the southern U.S. state of Virginia. But Roanoke's claim to historical fame came much earlier than that. Back in the pre-America days, Roanoke was an English settlement established by Sir Walter Raleigh, in what is now North Carolina. It's best known to this day as "the Lost Colony," one of the biggest unsolved mysteries in U.S. history, so-called because of the group of early colonists who mysteriously vanished from the colony during the Anglo-Spanish War.
There are any number of theories as to what actually happened to the Roanoke settlers. Some believe that they simply died off for lack of food and shelter during the cold winter months in unfamiliar territory. Others believe that they just packed up and left to live elsewhere (or, potentially, were fully or partially assimilated into one of the neighboring native tribes).
Still others believe that they may have been killed, by other settlers, by Native Americans – or by something far more supernatural/sinister. Given that American Horror Story typically takes supernatural horror as its theme, it's fairly clear, even at this early stage in Episode 1, that this season is taking the latter theory as its jumping off point.
We met Shelby and Matt, a happily married city couple, early in the season premiere. Unfortunately, their lives quickly became complicated by their joint decision (mostly Matt's) to move to a fixer-upper house in modern-day North Carolina after a random gang attack left Matt hospitalized and Shelby suffering from a miscarriage. The two are plagued by a series of mysterious (and possibly supernatural) disturbances soon after their move, which are then dramatically re-enacted (with Sarah Paulson as Reenactment Shelby and Cuba Gooding Jr. as Reenactment Matt) for the purposes of "My Roanoke Nightmare."
So far, the season is a master class in slow-burn, building tension. We have really no idea what's going on, or where the story might go from here – and I absolutely love it.