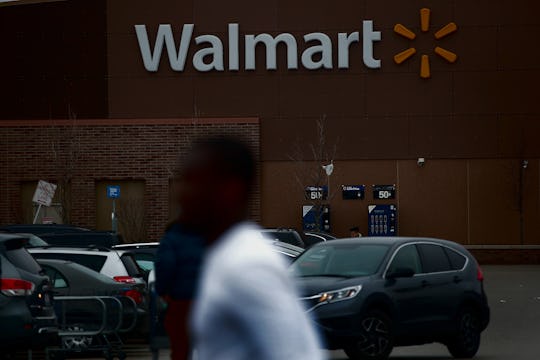 Scott Olson/Getty Images News/Getty Images
Texas Walmart Case May Be Human Trafficking
With 24-hour news coverage telling us every single thing that happens across the globe, good or bad, it's easy to just assume that the world is scary and full of evil. Of course, good things do happen, but it can be hard to keep track of all the positive with so much negative coming at us from every angle. And, unfortunately, bad news shows no signs of stopping. So, as you've likely seen "Texas" trending online Sunday, you might be wondering: What happened in Texas? Police think it was a case of human trafficking.
At a Walmart in San Antonio, about 150 miles from the Mexico border, eight people were discovered dead inside a tractor-trailer Sunday morning, according to CNN. Police said that there were about 30 others in the trailer who were in poor condition as well, suffering from dehydration in the extreme Texas heat. The bodies and survivors were discovered after one person from the trailer managed to escape to go ask a Walmart employee for water, who then called the police after fetching the water, according to The Guardian. Police weren't able to estimate how long the trailer had been parked in the Walmart parking lot, although they were able to confirm that the driver had been arrested, and an investigation was underway.
According to San Antonio Fire Chief Charles Hood, "We are looking at a human-trafficking crime here." As the "air conditioner in the trailer was not working," according to CNN, "the high temperature in San Antonio on Saturday was a sweltering 100 degrees Fahrenheit."
Because of the high heat, the survivors from the trailer are all mostly in critical conditions. Those who were found alive have been transported to nearby hospitals and include two 15-year-olds. The survivors were lucky the Walmart employee called the police, officials say. Hood said, according to CNN:
The inside of the truck was just austere condition that nobody was going to survive in it. So we were very fortunate that they were found because if they would have spent another night in that environment, we would have 38 people who would not have survived.
And as fortunate as it is that the Walmart employee thought to call the police, that doesn't always happen, because cases of human trafficking often fly under the radar, and they are on the rise. According to the National Human Trafficking Hotline, there were more than 7,000 human trafficking cases reported in 2016, and an estimated 30,000 victims worldwide since 2007. Likely, the victims in San Antonio were coming from Mexico, although that has yet to be confirmed.
What we do know, though, is that it's important to know what to look for in human trafficking cases. Experts advise reporting possible cases of human trafficking to local authorities before the Department of Homeland Security gets involved. According to DHS, there are numerous signs that a person is being trafficked, including:
Does the person have bruises in various stages of healing?
Is the person fearful, timid, or submissive?
Does the person show signs of having been denied food, water, sleep, or medical care?
Is the person often in the company of someone to whom he or she defers? Or someone who seems to be in control of the situation, e.g., where they go or who they talk to?
Does the person appear to be coached on what to say?
Is the person living in unsuitable conditions?
Does the person lack personal possessions and appear not to have a stable living situation?
Does the person have freedom of movement? Can the person freely leave where they live? Are there unreasonable security measures?
Hopefully, the victims in Texas will recover quickly. Because as important as their stories are, no one deserves to go through what they have gone through. People are people, and arbitrary borders, such as the one between Texas and Mexico, mean nothing in the end.