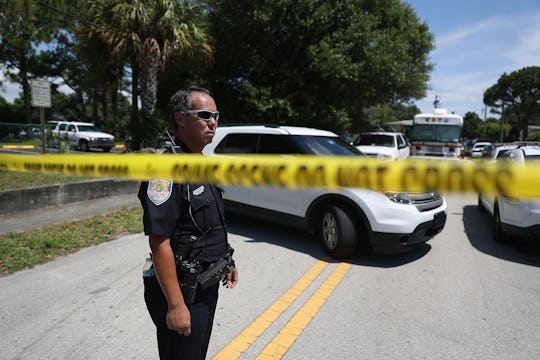 Joe Raedle/Getty Images News/Getty Images
What Happened In Virginia? A Congressman Was Shot
Police in Alexandria, Virginia, have confirmed reports of a multiple shooting at a baseball field that has left at least four people injured. What happened in Virginia? According to CNN, a gunman opened fire Wednesday morning on members of the Republican congressional baseball team during a scheduled practice, injuring Louisiana Rep. Steve Scalise and a number of others. The Alexandria Police Department tweeted an alert following the incident, urging people to stay clear of the scene, and noting that the suspect was believed to be in custody.
According to CNN, the shooting is being described as a "deliberate attack," and Alabama Rep. Mo Brooks told the outlet that he believed the shooter to be a white male, who fired a semiautomatic weapon from the third base dugout. Brooks said,
The gun was a semiautomatic. It continued to fire at different people. You can imagine, all the people on the field scatter.
According to CBS News, two Capitol Hill police officers were also injured in the shooting, and U.S. Park Police spokeswoman Anna Rose said that a number of individuals were evacuated from the scene by helicopter. President Donald Trump released a statement following the incident, saying that he and Vice President Mike Pence were "deeply saddened by this tragedy," and added that their "thoughts and prayers are with the members of Congress, their staffs, Capitol Police, first responders, and all others affected."
Following the release of his statement, Trump also took to Twitter to comment, and to seemingly provide an update on Scalise's condition. The president described the GOP congressman as "a true friend and patriot," and said that he "was badly injured but will fully recover."
According to People, Williams said that as many as 25 GOP representatives were present at the baseball practice, and that Scalise "dragged himself across the field" after being shot in an attempt to shield himself from further bullets. According to Brooks, the gunman was shot by members of the congressional protective detail who were on the scene.
The Republican members of Congress had gathered at the field Wednesday to practice ahead of Thursday's Congressional Baseball Game, according to People, a yearly tradition in which Democrats and Republicans face each other in a friendly charity match.
According to CNN, Wednesday's shooting marks the first shooting involving a member of Congress since January 2011, when former Arizona Rep. Gabby Giffords was shot at an event at a grocery store in Tucson.
Kentucky Sen. Rand Paul, who had also been participating in the baseball practice, gave a harrowing account of the shooting to MSNBC, and said that if it hadn't been for the Capitol Hill police officers who ultimately took the gunman down, "everybody probably would have died." Paul said,
The Capitol Hill police, incredibly brave, probably saved the lives of everybody there. Had they not been there it would have been a massacre because there's no escape, a guy, if he has got 100 bullets, we had no weapons and no place to hide.
According to The Guardian, multiple outlets have reported that Scalise and the wounded police officers are in hospital in stable condition. Although the details of the incident are still continuing to unfold, what seems clear is that the shooting was a senseless act of violence that no one should ever have to endure.