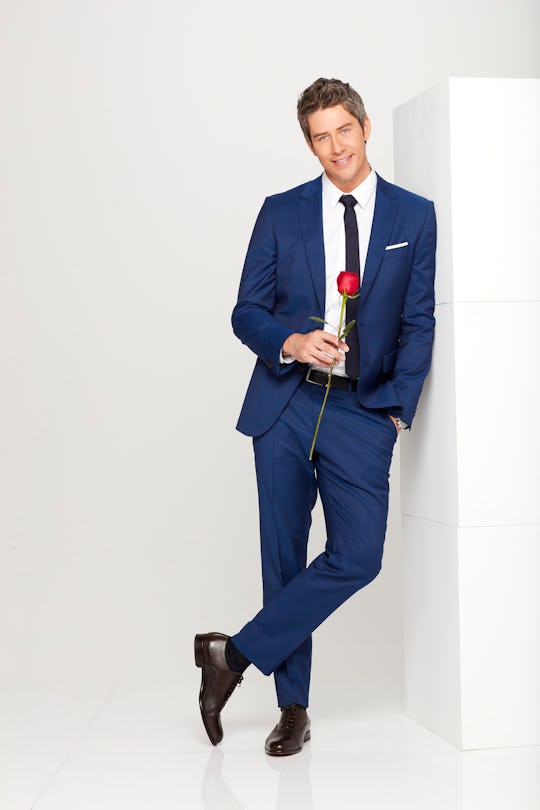 Craig Sjodin/ABC
Everything You Need To Know About Arie Before 'The Bachelor' Premiere
I'm a relatively recent convert to the slightly weird and emotionally fraught world that is Bachelor Nation. So after Rachel Lindsay's season of The Bachelorette, I was fully expecting her beautiful runner-up, Peter Kraus, to be the next Bachelor. Then Arie Luyendyk Jr. was announced and my initial reaction was, Who? So if you're like me, you may be wondering: what happened on Arie's season of The Bachelorette? It turns out that Arie is a lot like Peter in that they both have dashing salt and pepper hair, seem relatively down-to-earth, and finished as runner-ups on their seasons of The Bachelorette, thereby breaking hearts all across the nation.
Arie first appeared on Emily Maynard's season of The Bachelorette way back in 2012. Since then, aside from a couple of one-off appearances, the race car driver and real estate pro has not been on any Bachelor spinoff shows like Bachelor in Paradise, and has not taken to selling any tooth whiteners or workout gear on Instagram. For this reason it was relatively easy for this soon-to-be silver fox to fade into relative obscurity. But now that he's The Bachelor, Arie's days as just another handsome guy you might casually notice on the subway are over. So now I want to know what, exactly, I'm going to be in for going into a full season of this guy. Here are some highlights of what happened to him during his Bachelorette season.
He Earned An Interesting Nickname
It appears that the first and most important piece of information to know about Arie is that while he was wooing Emily — who is now married to a Bachelor outsider and mom to several children, — he earned the nickname the "kissing bandit." I have been watching highlight reels of Arie's make-out maneuvers for the past 45 minutes now and so can attest that this nickname is well-earned. It's all about seizing the moment, meaningful looks, and proper hand placement, guys. Also — if you see a wall, use the wall. Someone actually took the time to make a "How to Kiss Like Arie Luyendyk Jr." video on Youtube. It's a thing.
He Proved He's A True Romantic
In what has to be one of the most awkward After the Final Rose interviews ever, Arie revealed just how serious he was about his feelings for Emily. After the show ended, he actually flew to her town of Charlotte, North Carolina and tried to contact her. He ended up just leaving her his journal of his experience on the show so that she could read it and see how genuine his feelings were. Except she didn't read the journal. Oof. My heart hurts.
He Was A Secret Casanova
Emily and Arie had a delightful one-on-one date in Prague, which appears to be an ideal city for strolling hand-in-hand romantically while gazing up at beautiful art and architecture. This date was spoiled somewhat when Arie didn't know that Emily knew that he had actually dated one of the producers on the show. Honestly, I'm most curious about the producer in question's feelings about this situation. Was she the one interviewing Emily and Arie in their talking heads segments? Did she have to arrange their dates? Did she nominate Arie as a contestant in the first place? So many questions.
From all of my research, what I can tell about Arie Luyendyk Jr., soon to be inducing swoons all across the country, is that he actually appears to be a pretty genuine guy. I'm excited to see what kind of season he runs, and whether he'll actually meet the girl of his dreams on this show. Hey, it's been known to happen on this show... every so often.
Check out Romper's new video series, Romper's Doula Diaries:
Watch full episodes of Romper's Doula Diaries on Facebook Watch.