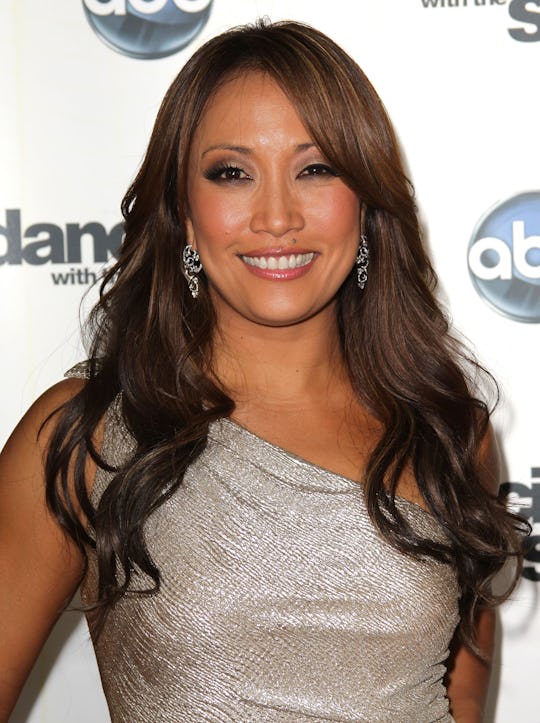 Frederick M. Brown/Getty Images Entertainment/Getty Images
What Happened On The 'Dancing With The Stars' Premiere? Something Weird Occurred
If you've been watching the Dancing with the Stars premiere, then you know that there has been some big standouts. But, unfortunately, there is no way that even the highest scores will be the most memorable thing during the season premiere after something mysterious occurred off camera. So, what happened on the Dancing with the Stars premiere? That's a very good question. (Romper has reached out to both ABC and Lochte for a statement on the incident, but did not hear back at the time of publication.)
Update: According to Eyewitness News, the two men were protesting Lochte for "endangering America with his Olympics fiasco." Two men were seen being escorted into a police car, while five women were escorted out of the studio. There has been no word on any arrests.
Things seemed to be turning back around for Rio Olympic bad boy Ryan Lochte. His dance was — eh — not bad. But, when he was receiving his critique from Carrie Ann Inaba, someone seemed to interrupt the comments with potentially some sort of protest? The camera kept off of Cheryl Burke and Lochte, so while we'll never know exactly what happened (unless the pair speaks out), but from the sound of it, it wasn't good.
Tom Bergeron, being the great host he is, quickly cut to commercial while Carrie Ann continued to say "excuse me" to the stage intruders. While the camera didn't cut to the dancers, we could see quite a few people were running onto the stage in front of the judges table.
When the show returned from an unplanned commercial break, Bergeron had the following to say:
We had a little incident. I would like to personally thank our security team for staying in shape. Are you OK, you guys?
He then asked Lochte, "When there's that kind of strong emotion, what does that make you feel?" Lochte's response made the incident even more confusing. He said, "So many emotions are going through my head — I'm a little hurt." Hurt by what, Ryan?
One reporter from People had the following to say about the incident:
In case you missed the moment, one fan has captured the moment below.
Another Twitter user had the following to say about the incident.
Hopefully we'll hear more about the incident once nerves have settled. It clearly cast a strange cloud over the rest of the show. For now, let's just be thankful that everyone is OK.
Update: An ABC News correspondent shared the following photo on Twitter following the incident. While there is no confirmation that these two men are the people who carried out the incident, Jason Nathanson's post seems to suggest that they were responsible.
More information will be added as it becomes available.